Couple jailed for knife attack on father and son in Baillieston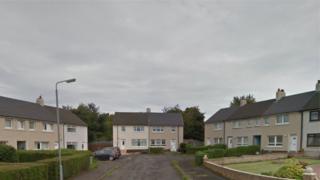 A couple convicted of attempting to murder a pensioner and his son in a knife attack at their home in Glasgow have been sentenced.
Mark Lafferty and his partner Adeline Clark forced their way into the house in Baillieston last December.
They robbed a woman of £35 then made their way upstairs and repeatedly stabbed a man and his elderly father.
At the High Court in Glasgow, Lafferty was jailed for 12 years and Clark was sentenced to eight years in prison.
'Chopped up'
The court heard the attack left 71-year-old Dennis McCowan with a collapsed lung, and his son Mark, 46, needing a chest drain and a blood transfusion.
Mark McCowan told the court he would have been "chopped up" if his father had not intervened.
Dennis McCowan's wife, Christine, 68, was also assaulted by the couple.
In evidence, Mr McCowan senior described seeing Lafferty standing over his son's bed with a blade above his head in the attic of his house, and said he threw him downstairs.
The retired garage owner was then attacked by Clark who stabbed him in the chest and demanded cash.
'Stab happy'
Mr McCowan junior described Clark as "stab happy", and said she attacked him with a knife as he ran past her down the stairs of the house and out the door. He told the court he was able to recognise Clark, whom he had known since 2008, by her voice.
Both Lafferty, 53, and Clark, 41, had protested their innocence during the trial but the court heard that Clark now admits stabbing the father and son with a knife.
Her defence counsel Geoff Forbes said: "She tenders an apology for the obvious upset and distress caused to all. Although maybe it is a case of too little too late."
Former forklift driver Lafferty also told a social worker who compiled a background report on him that he had committed the crimes.
But, solicitor advocate Billy Lavelle said: "He tells me he told the social worker what he thought she wanted to hear. He maintains his innocence."
The court heard that both Lafferty and Clark had a number of previous convictions.
Sentencing them, judge Lady Stacey said: "These are very serious charges - robbery and two charges of attempted murder."