Ayrshire pet sanctuary boss had dead dogs in freezer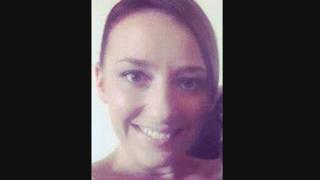 A woman who ran an animal refuge has been jailed for seven months after neglecting pets in her care and putting them in a freezer when they died.
Zara Brown, 29, from Ayrshire Ark Refuge, failed to give the animals adequate food and water, and abandoned them in an old school with no lights.
Scottish SPCA inspectors found a dead dog lying on the floor and seven others, and a cat, in a freezer.
Brown was banned from keeping animals for life.
Ayr Sherriff Court last week heard that Brown, who admitted the charges, charged owners to take their animals in to her care at her Ayrshire Ark refuge if they were unwell or the owners could no longer look after them.
The mother-of four ran the refuge from the former St Xavier's Primary School in Patna, East Ayrshire.
Some dogs were left to die in the dilapidated, remote building, while others were put in a chest freezer.
The dogs were forced to clamber over mountains of rubbish, debris and building materials and had no clean areas.
Last week, Brown pled guilty to neglecting eight dogs so badly she caused them unnecessary suffering, and failing to provide adequate nutrition and water for them.
Procurator fiscal depute Jason Bell said the investigation began following a tip-off from a member of the public that a dog was lying dead in the premises.
The prosecutor said: "There was a large dog in one of the former classrooms that appeared to be lifeless. It was very underweight.
"They looked to rouse the dog by banging on the windows but it was apparent the dog was clearly dead.
"They observed a further dog in the cloakroom area, it appeared to be standing in its own faeces.
"The inspector was very concerned for the animals."
'Overpowering smell'
It took four hours for the inspectors to get access to the property and, when they got in, one of the dead dogs had been moved.
Mr Brown added: "The corridor leading to the main door was strewn with rubbish and building materials. It was dark and there was no lighting present.
"The smell of faeces and urine was overpowering, causing the witnesses to gag.
"They located a chest freezer. Within the chest freezer there were seven dead dog carcasses and a dead cat.
"They went in to the room where the dead dog had been. There was drag marks indicating it had simply been moved.
"They went in to a toilet area and found a further dead dog behind the door."
Brown admitted leaving the dogs malnourished, emaciated, and not getting them medical treatment for arthritis, ear and paw infections, a broken bone, pressure sores, lesions and ulcers, in breach of the Animal Health and Welfare (Scotland) Act 2006, between November and December last year.
Defence solicitor Euan Cameron asked for leniency for Brown, saying she her children would suffer if she was jailed.
He said: "She is conscious the offences are of the utmost gravity and she understands why her conduct and actions have initiated such revulsion and disgust in the minds of those who have heard about the offences."
He said she recognised "the appalling nature of her inaction and neglect" but said she was not completely to blame.
'Utmost gravity'
Mr Cameron added: "The dogs which arrived in her care were not in a good condition when they arrived and I realise that placed an even greater onus on her to get help, veterinary help.
"This is not a case where she took dogs that were healthy and fighting fit and neglected them to such an extent they were found in this appalling state.
"She made a bad situation much, much worse.
"Were she to receive a sentence of imprisonment the impact on her children would be a significant and negative one."
He said Brown had operated the sanctuary for 10 years, had no previous convictions and was suffering from depression and anxiety at the time.
Sheriff Mhairi MacTaggart said to Brown: "These offences are individually very serious. However, the totality of them - in my view - amounts to offending of the utmost gravity.
"Despite all that's been said on your behalf, I have come to the view that, such is the gravity of the offences, only a custodial sentence is appropriate.
'Particularly harrowing'
Speaking after Brown was jailed, SSPCA inspector Leanne McPake said: "This case was particularly harrowing and will stay with us for a long time.
"The conditions in which the dogs were forced to live were woefully inadequate.
"We hope that this sentence will act as a deterrent to others."
She said that, as well as the dead dogs, inspectors found nine dogs tethered or caged which were malnourished and had no access to food or water.