Would-be thief gets locked in van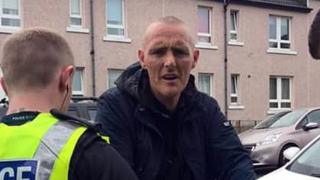 A would-be thief found locked in a van in Glasgow has been found guilty of planning to rob or damage property.
Graham Lynch, 38, had tried to kick his way out, but only succeeded in bashing the back doors of the van on 2 June.
He was found by the van's owner Michael Dolan when he returned with workmates to where it was parked in Shettleston.
Lynch admitted being found in the vehicle with intent to rob, wilfully or recklessly destroying or damaging property belonging to another.
At Glasgow Sheriff Court, Lynch also admitted behaving in a threatening or abusive manner by shouting, swearing and uttering threats of violence.
Mr Dolan had photographed Lynch as he was being cuffed by police, and posted the picture on his Facebook page.
He had written: "Look what I found in the back of my work van today sneaked in and locked himself in.
"He got 2 options.. to be let free with 3 of us waiting outside the van or wait on the police
"This happened on Glenalmond Street behind the CO-OP in Shettleston."
Sheriff Anthony Deutsch deferred sentence until next month.