Amazon customer sent lost engagement ring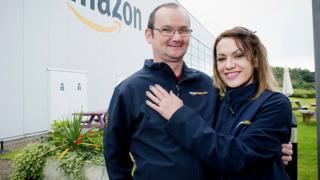 A bride-to-be has been reunited with her engagement ring - after accidentally sending it more than 200 miles away.
Amazon worker Tatiana Fernandez, 49, lost the diamond band as she packed a box of children's books at a warehouse in Gourock, Inverclyde.
The ring was sent, along with the books, to a customer in Manchester.
Customer Stephenie Healiss later contacted Amazon to say she had been sent the precious possession.
'Gone forever'
Ms Fernandez, who is due to wed fiancé Stuart O'Neil, 52, said: "When I realised I'd lost my engagement ring, I went through a range of emotions, from sadness to anger at myself for losing it. I honestly thought it had gone forever."
The Cuban native added: "When our leadership team got in touch to say a customer found it in their package, I couldn't believe my luck.
"It's such a relief to get my ring back and I'd like to say a heartfelt thank you to our kind customer for returning the ring to me."
The couple, who met while working at the Amazon site near Glasgow, are currently planning their big day and are thrilled to be able to have their original engagement ring for the ceremony.
Ms Healiss said: "I was surprised, yes. I could tell the ring had a great deal of sentimental value and know from my own experience that things like that cannot be replaced.
"That's when we decided to contact Amazon. I am so pleased it's been returned safely and wish Tatiana and Stuart all the very best for their wedding day."