Bid for Nelson Mandela statue in Glasgow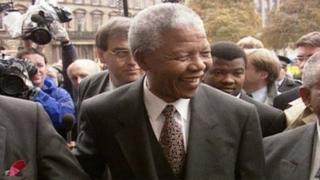 A public fundraising campaign has been launched to erect a statue in honour of the late Nelson Mandela in Glasgow.
In 1981, Glasgow became the first city in the world to make Mandela a freeman for his role in challenging the system of racial segregation in South Africa.
The move prompted Mandela to visit the city in 1993 to thank the people.
The newly-formed Nelson Mandela Scottish Memorial Foundation (NMSMF) wants to locate the statue in Nelson Mandela Place.
The street, which was previously St George's Place, was renamed in 1986.
Former football manager Sir Alex Ferguson has backed the campaign and is one of patrons of the NMSMF.
Sir Alex met Nelson Mandela on three occasions, one of these at Mandela's home on his 88th birthday.
He said: "The remarkable thing about Nelson Mandela was his complete lack of bitterness at being imprisoned for 27 years.
Sir Alex praised the people of Glasgow for their "terrific role" in the anti-apartheid movement, and described Mandela as a very special man who was "an example for the world to follow".
'Spontaneous tribute'
Lord Provost Eva Bolander said a statue would help increase knowledge and understanding of Mandela and his iconic place in history.
"His vision and tireless campaigning helped secure his countrymen and women's freedom and human rights," she said.
NMSMF chairman Brian Filling, who organised Mandela's visit to Scotland in 1993 and was a guest at his inauguration as president of the Republic of South Africa in 1994, said he hoped people would "respond generously to honour one of the world's greatest leaders".
He described how in 2013, people had gathered in Glasgow to mourn the death and celebrate the life of Nelson Mandela.
"Many hundreds of people crammed into Nelson Mandela Place on that cold December night just like they did when the street was re-named in 1986 and when Mandela was released from prison in 1990," he said.
"The idea of creating a permanent and public memorial - a statue in Nelson Mandela Place - grew out of that spontaneous and moving tribute".