Man raped woman who later took her own life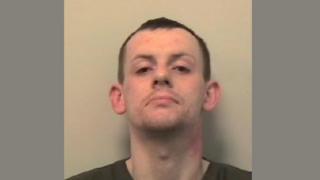 A man, whose partner took her own life during a police investigation into her rape claims, has been found guilty of a series of domestic abuse offences.
Ryan Graham raped the woman while on bail for another sex attack on her.
The 27-year-old, from Ayrshire, had denied the charges and claimed anything that happened between them that day at a house in Irvine, had been consensual.
After a trial at the High Court in Glasgow, Graham was convicted of rape, indecent assault and assault to injury.
Sentence was deferred and Graham remanded in custody.
The court heard from a police officer who read a statement about the attack on 8 March.
Jurors were told Graham got into bed with his victim and pulled the bedclothes off her.
In the statement, the woman had said: "Ryan then pulled my top up to my arms covering my head, I was crying and telling him 'what you're doing is rape'.
She described a sexual attack on her by Graham while she protested.
'Threatened with knife'
After being arrested by police and granted bail with conditions not to go near her, Graham returned on the 10 March and raped his victim.
The 34-year-old victim was found dead within a house in Irvine on 14 March.
While clearing out her home, her family discovered a letter written by her about the attack.
It detailed how Graham had challenged her for reporting him to police and apologised for what he had done.
She said he had "pulled out a small knife and told her to walk".
She went on to describe the rape, after Graham had told her: "Getting me done with a rape charge, I'll show you rape".
Afterwards she had reported him to police and given another statement.
'Hearsay evidence'
Defence QC Donald Findlay argued unsuccessfully that it was a breach of Graham's human rights that his lawyer was not able to cross examine the victim and said the jury was only being presented by hearsay evidence.
Mr Findlay said the letter left by the complainer was "moving" but there was nothing to suggest when it had been written.
Judge Sean Murphy QC repelled the argument and said there was evidence of distress on the part of the victim witnesses by others, which supported her rape claim.
Sentence was deferred and Graham remanded in custody.
After the trial, Det Ch Insp John Hogg said he was sorry the victim could not have been there to see Graham "convicted of the horrendous crimes he put her through".
He said: "I hope that her family and friends take some comfort in the knowledge that this case has been seen through to court and he is now being held accountable for his despicable actions."