Woman hurt after part of station ceiling falls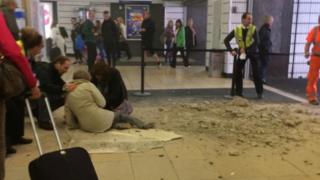 A woman has been taken to hospital with minor injuries after part of a ceiling collapsed at Queen Street Station in Glasgow.
A ScotRail spokesman said the incident happened in a corridor at the Dundas Street level just after 11:00.
The firm said a plasterboard panel fell on the woman, leaving her with a cut to the back of her head.
The corridor has been closed for police investigations. ScotRail said it would also make inquiries into the incident.