Breakthrough for £100m Shieldhall Tunnel project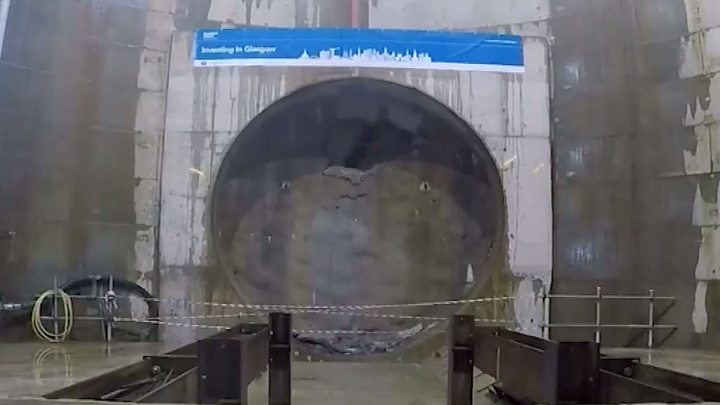 A giant boring machine has "broken through" to complete the initial construction phase of the £100m Shieldhall Tunnel.
The project to create the biggest waste water tunnel in Scotland has seen a 3.1 mile (4.8km) tunnel created beneath the south of Glasgow.
Scottish Water hopes the new sewer will improve water quality in the River Clyde and tackle flooding.
The tunnel is due to become operational next summer.
The 1,000 tonne drill being used to make the tunnel made the breakthrough on Thursday night beneath Queen's Park.
Cutting head
The tunnel now runs from Craigton to Queen's Park, via Bellahouston and Pollok parks, and marks one of the most significant infrastructure projects in the city Glasgow since Victorian times.
Scottish Water said the 1,000-tonne boring machine, nicknamed Daisy the Driller, completed the installation of more than 3,200 concrete rings to form the tunnel before its cutting head emerged at the bottom of a 16 metre-deep shaft to cheers and applause from the workers involved.
Shieldhall Tunnel facts
At 4.7 metres (15.5ft) in diameter, the tunnel will be big enough to fit a double-decker bus inside.
More than 500,000 tonnes of earth, stone, clay and other aggregates have been excavated in its creation.
Of that, 90% of the excavated material has been or will be recycled.
The new tunnel will be five times longer than the Clyde Tunnel.
It will provide 90,000 cubic metres of extra storm water storage - the equivalent of 36 Olympic-sized swimming pools.
The giant tunnelling drill advanced through the ground at a speed of about 2cm per minute.
Douglas Millican, Scottish Water's chief executive, said: "With Daisy the Driller having reached her destination, we have completed the most challenging part of the project.
"We now move to linking the tunnel to the existing Glasgow waste water network and bringing the whole new system into operation next year."
Roseanna Cunningham, the environment secretary who launched the machine in July 2016, added: "The Shieldhall Tunnel is an extraordinary feat of modern engineering which builds on the endeavours of those pioneers who sought to improve Glasgow's waste water network more than a century ago.
"Providing an excellent effective waste water network which serves our growing communities is vital to the city's infrastructure and environment, now and for future generations."