Two top-flight Scottish clubs are hit by fraud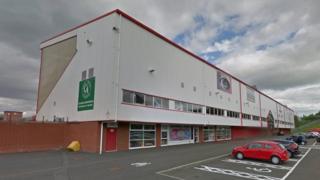 A second Scottish Premiership club has confirmed it was the target of an internet fraud.
Heart of Midlothian said it was the subject of a fraud earlier this year.
It followed news that Hamilton Academical has lost what it described as a "substantial sum" due to fraud. The missing money is reported to be in the region of £750,000.
The Scottish Premiership club said its bank and the police are working to identify those responsible.
A criminal investigation has been started.
A statement issued by the club said its directors will provide funds to meet its financial obligations until the investigation has been completed.
There was no confirmation about the scale of the fraud.
The club said: "At this point it is imperative that we remain calm and work together as we go through one of the most difficult situations we have faced as a club."
A Police Scotland spokeswoman said: "We can confirm a complaint has been received regarding a fraud and officers are currently carrying out inquiries into this matter."
Hearts statement
A statement from Tynecastle confirmed the Edinburgh club had also been hit.
It said: "Heart of Midlothian can confirm it was the subject of an internet fraud earlier this year.
"The matter is now part of an active police investigation and therefore no further comment will be made."
The loss at Hearts is thought to be on a smaller scale than that affecting Hamilton.
The Scottish football authorities have said the situation facing Hamilton is "very serious" for the club.
SPFL chief executive Neil Doncaster said: "Hamilton Academical have informed us that they have been the victim of a sophisticated financial fraud and that Police Scotland are carrying out an investigation.
"This is clearly a very serious and unfortunate situation and everyone in the game will hope it can be resolved quickly.
"We will be monitoring the situation closely and working in conjunction with Hamilton Academical in the days and weeks ahead."
The SPFL warned clubs in August to guard against online fraud, after Annan failed to receive an £18,000 payment from the league at the end of last season.
The funds had been paid into a fraudulent account and police launched an investigation after the money was retrieved.