West Dunbartonshire Council to replace high-rise window panels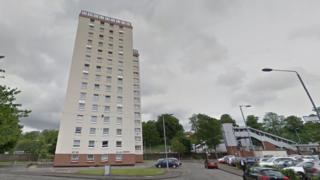 External window panels on 11 high-rise blocks in Clydebank will be removed following a review in the wake of the Grenfell Tower fire.
West Dunbartonshire Council said it had commissioned fire safety assessments on 22 blocks following the blaze in London which killed at least 80 people.
The independent expert recommended the panels below each window in 11 of the blocks should be replaced.
The work will begin "as soon as possible", the authority said.
The checks carried out during the safety review raised questions over the composition of the material used in the panels.
Although the panels meet current building regulations, the council said it would replace the panels to "remove any uncertainty".
The independent assessor appointed by the council has also stressed that the window panels "are not in any way similar to those installed in Grenfell".
The authority said in June that none of the high-rise properties in West Dunbartonshire were clad with the same external material used on Grenfell Tower.
Blocks where the window panels will be replaced
Dalmuir: Crescent Court, Overtoun Court, Dunswin Court, Burnside Court and Ellinger Court
North Drumry: Peel View, Gleniffer View, Garscadden View, Duncombe View and Cleddans View
Kilbowie Court
Residents in the 11 affected blocks have been informed by letter.
Peter Barry, West Dunbartonshire Council's housing lead, said: "Our priority is the safety of our tenants and that is why we took the additional step of commissioning enhanced fire safety assessments.
"By carrying out these checks that are above and beyond what is expected, we have been able to identify an area for improvement in the form of the window panels.
"I want to be clear that the expert is explicit in saying these panels are not the same as the external wall coverings that were fitted at Grenfell. However, we will replace them as quickly as possible to fully reassure the people living in these homes."