Ex-teacher, 90, sexually abused boys on Arrochar camping trip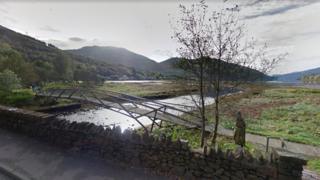 A judge has ruled that a 90-year-old former teacher sexually abused two schoolboys more than 40 years ago.
After examining the facts, Judge John Morris QC determined that John Pringle, from Mull, had carried out the indecent assaults on a camping trip.
The offences were committed at a caravan at Arrochar, Argyll and Bute, between April 1972 and January 1974.
Pringle, who was deemed unfit to stand trial, was not in court for the hearing.
At the High Court in Glasgow, Judge Morris heard the evidence with no jury present and decided that there were no reasonable grounds to acquit Pringle.
One of Pringle's victims, who was 14 at the time, told of how he would be given alcohol and then abused.
The other victim, who was 13 at the time, said that Pringle gave him alcohol and also showed him pornographic magazines before indecently assaulting him.
Outdoor courses
Prosecutor Kath Harper said: "One of the victims came forward because the abuse had been playing on his mind. The other came forward because of the Jimmy Savile revelations.
"The two men came forward independently within a fortnight of each other," he added.
The court heard that Pringle, who was a French teacher at Bishopbriggs Academy, took boys away on outdoor courses.
Judge Morris said after hearing evidence: "I find the facts have been established. The witnesses were credible and reliable."
The judge will decide at a hearing next month at the High Court in Edinburgh whether to impose any order on Pringle.
The court heard that Pringle has two convictions for similar incidents.
He was jailed in 2008 for sexually abusing boys.
The offences were carried out after he lured three teenage boys to his caravan at Arrochar between 1979 and 1981 when the boys were aged 13 and 14.
Pringle was also sentenced to 12 months in prison at Dumbarton Sheriff Court in 2010 after being convicted of sexually abusing teenage boys at Arrochar.
An 'examination of facts' - a little-used procedure in Scottish courts
Analysis by BBC Scotland home affairs correspondent Reevel Alderson
The accusations against Pringle were heard without him being present because it had been accepted that the 90-year-old was unfit to stand trial.
It is a fundamental principle of Scots Law that the accused should be present at his or her trial; there is no concept of a trial in absentia, although sometimes if an accused person is unruly in the dock, they can be excluded by the judge.
So this case proceeded with the judge carrying out an "examination of facts" (EOF), with no jury present.
This little-used procedure is conducted like a summary trial in the sheriff court, which is also with witnesses giving evidence and being subjected to cross-examination by the accused's counsel.
Where an EOF differs from a trial is that the judge could not convict Pringle - although he could have acquitted him if there was insufficient evidence "beyond all reasonable doubt" that he had committed the offences.
He has found that "on the balance of probability" Pringle was guilty, and next month will decide what to do. These options do not include jailing the former teacher.
Risk to public
He could order Pringle to be detained in a hospital or be subject to local authority control. Or he could make no order.
The judge's decision must be based on the risk Pringle poses to the public: as a 90-year-old, this is likely to be small.
So the question arises: what was the point in bringing this prosecution?
Undoubtedly it is because, despite the passage of more than 40 years, the victims deserved to be heard and believed - and there is no statute of limitations on criminal acts.
The successful prosecution will also clear the way for civil action by Pringle's victims.