Missing Margaret Fleming's cottage sold for £120,000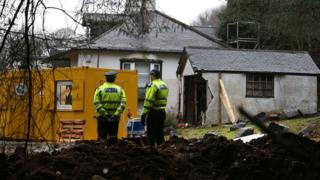 The home of missing woman Margaret Fleming is set to be demolished after being sold for £120,000.
Ms Fleming's disappearance was reported a year ago but police said she had not been seen by anyone except her carers since 1999.
Eddie Cairney and Avril Jones opposed an Inverclyde Council demolition order on their cottage in Inverkip.
But Greenock Sheriff Court heard the new owners have no objections to the move.
Earlier this month, the couple told BBC Scotland that Margaret, 36, had come to "no harm" and that they had spoken to her recently.
Mr Cairney, 75, said that over the past year she had been in London and Poland and was now working as a gangmaster.
But a police spokeswoman confirmed officers knew of no independent sighting of Margaret since a family gathering on 17 December, 1999.
The five-bedroom cottage was the subject of intensive police searches which, according to the council, left it in a "serious state of disrepair" and "unfit for human habitation".
Demolition order
Since the couple's initial objection to the council order, it has emerged they have sold the isolated property to Minaz Rajabali, 57, and business partner Harinder Singh Kohli, 51, for £120,000.
Mr Cairney and Ms Jones, 56, moved out of the house last week.
An Inverclyde Council spokesman said: "The demolition order we served on this property aimed to make sure that no one resided there given its condition.
"It was entirely about protecting people's safety.
"The current position with new owners who have committed to the demolition of the current property fulfils the requirements we had."
Mr Rajbali and Mr Kohli run haulage and recycling firm Slam Transport in Coventry which has assets of more than £5m.
They also develop properties and own a number of homes throughout the UK and abroad.
Cottage sold
Property records show the deal to buy the Inverkip property was concluded on Monday.
Neither of the businessmen responded to requests for comment.
It is understood renovation work has already started at the property and a fence has been erected around it.
The large-scale international police hunt was launched a year ago over a probe into state benefits paid to Ms Fleming.
Police said that Margaret, who will now be 36, has not been seen by anyone but the two carers since 1999, when she was 19.
Officers began a search of the house in November last year which they then extended into the garden, where excavation work was carried out on half an acre of land.
By April this year, the search had concluded.
Officers said Margaret "could have had an accident, possibly wanted to be missing or even something more sinister".