Man guilty of raping 14-year-old girl outside supermarket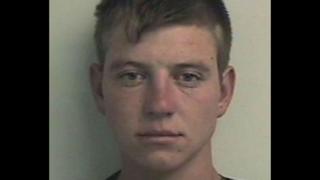 A man has been found guilty of raping a 14-year-old girl outside a supermarket after she had gone to the shops on her bike to buy sweets.
Samuel Ciornei, 20, attacked the girl at a car park behind the Iceland store in Barrhead on 7 August 2016.
Judge Kenneth Maciver told him he had carried out a "disgusting and degrading attack on an innocent young girl".
Ciornei was put on the Sex offenders' Register and will be sentenced at the High Court in Glasgow next month.
The labourer, who had arrived in Scotland from his native Romania on 19 July 2016, had been staying with a family in Barrhead.
Piece of glass
The court was told the girl had cycled to a nearby Asda to buy sweets and chained her bike outside, when she saw Ciornei sitting nearby.
When she returned, she noticed her bike had a flat tyre. She walked it to a car park behind an Iceland supermarket to inspect it.
When Ciornei approached her, she assumed he was there to help fix the tyre.
Instead, he threatened her with a piece of glass, which he held to her throat, grabbed her hair and told her to go into the bushes.
Jurors heard how Ciornei sexually assaulted the child then later "gestured for money" using his hands.
She said she was able to escape from him after he grabbed her bag when they emerged from the bushes.
CCTV footage played to the court had captured Ciornei "directing or pushing" the girl into the bushes before disappearing after her.
'Revulsion'
Judge Kenneth Maciver told him: "This was a disgusting and degrading attack on an innocent young girl who was simply out to enjoy a cycle on a quiet summer evening.
"She was entitled to feel safe, but she was not safe.
"She was unfortunate enough to encounter you and she was subjected to a violent attack which will live with her forever.
"Words cannot express the revulsion which society feels about such attacks of sexual violence."
Judge Maciver added that he was concerned that after such a short time in the Scotland, Ciornei was "drunk, aggressive and following a young girl, for whatever purpose".
Defence advocate Geoffrey Forbes will give his plea in mitigation next month when his client returns to be sentenced.