Son of Clutha victim finally wins damages claim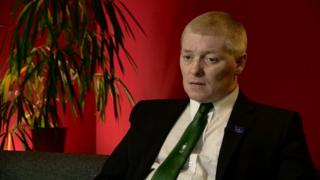 The son of a man killed in the Clutha disaster has won a damages claim, four years after a police helicopter crashed into the Glasgow pub.
John McGarrigle was one of 10 who died in the tragedy but his son, also John, has only recently received compensation from the helicopter's operator.
His lawyer said Babcock tried to block the claim by arguing the father and son did not have a close relationship.
However they reached an out-of-court settlement last month.
It is understood that Mr McGarrigle has received a five-figure sum.
Babcock, which owns the police helicopter operator Bond Air Services, said it would not comment on individual cases.
Mr McGarrigle told the Scottish Sun that Babcock's lawyers claimed to have evidence that he never had a loving relationship with his father.
"Their payment was their way of acknowledging that me and my dad had a loving relationship - and that was the big thing for me," he said.
David Bell, an associate with law firm Irwin Mitchell, said he has dealt with 16 individual claims connected with the Clutha crash.
"The majority of those settled some time ago," he told the BBC Scotland website.
"In this particular case, the defenders were challenging the nature and extent of our client's relationship with his father.
"We always maintained that he had a very close and loving relationship with is father."
He said Mr McGarrigle found the legal fight "pretty harrowing"
"It was clearly quite upsetting - not many people in those circumstances are having to justify and demonstrate that they loved their dad," he said.
"Now it's over, I think he's pretty relieved."
Ten people died and 32 were hurt when a police helicopter crashed into the roof of the Glasgow pub on 29 November 2013.
An investigation found that fuel transfer switches were turned off but it could not answer why the pilot did not land or send a distress call.
The Crown Office said an investigation into the crash is ongoing.
A spokeswoman said: "The AAIB report into the Clutha tragedy, published in 2015, raised a number of issues which require further investigation by Police Scotland under the direction of the Crown Office and Procurator Fiscal Service.
"That investigation remains ongoing and is challenging and highly complex.
"We will continue to keep the families advised of progress with the investigation."