Cancer charity appoints online nurse to combat 'fake news'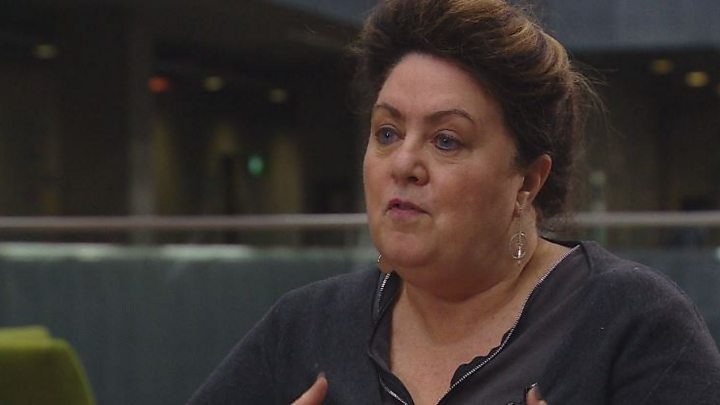 A charity is aiming to combat "fake news" about cancer on the internet by appointing a full-time nurse to provide accurate information.
Macmillan said two-fifths of people with cancer looked up information about their diagnosis on the internet.
It said unverified sites were often leaving patients needlessly frightened or trying bogus treatments.
A Glasgow-based nurse will now answer cancer questions through social media and the charity's website.
"Digital nurse" Ellen McPake said she was there to "make sure people affected by cancer have a real person they can turn to online for information about their symptoms, cancer diagnosis and treatment".
Some of the claims she is aiming to debunk include baking soda being a cure and the suggestion chemotherapy kills more people than cancer itself.
Headteacher Kay Robertson, 51, from Crieff, used the internet extensively to find information about her illness after being diagnosed with a rare form of liver cancer in March 2014, and when it returned in May 2016.
The mum-of-two said: "I Googled everything, all the way through my cancer."
She had a "fantastic" consultant and a nurse who explained things really well, she said, "but there was always something I needed to look up".
"Everyone is just so used to getting information instantly now that going online is inevitable.
"There is so much false information out there. I was careful to only look at websites I knew I could trust like Macmillan or the NHS."
'Horror stories'
Janice Preston, Macmillan's head in Scotland, said it was vital that people got their information from reliable sources.
She said: "As well as fantastic information and support, the web is full of unverified statistics, fake news and horror stories that can cause people unnecessary worry and distress.
"It's important people have access to trusted information online and know how to separate websites that are accurate and reputable from those with incorrect or even dangerous information.
"We hope our new digital nurse will help people who want to find answers online.
"She will be there to answer questions from people across the UK about cancer and make sure they get the information they desperately need."