Man killed Johnstone neighbour over 'child's tablet row'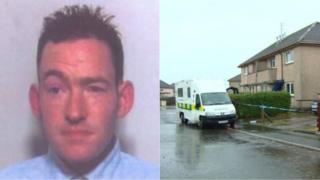 A man stabbed a neighbour to death after an apparent row over a child's tablet device, a court has heard.
Darren O'Neill stabbed Steven Quail 25 times during the attack at the victim's home in Johnstone, Renfrewshire, on 25 February this year.
The 34-year-old later told his girlfriend that Mr Quail, 42, had tried to take his daughter's tablet.
O'Neill had been due to stand trial, but pled guilty to murder. He will be sentenced in November.
The High Court in Glasgow heard that the men lived in the same street. O'Neill had a home with his partner and young daughter while Mr Quail lived alone.
The killer knew the victim as "Quaily".
In the early hours of 25 February, Mr Quail's neighbour heard "banging" and "rowdiness" coming from his flat.
The court was told that at about 02:00, O'Neill's girlfriend Keri McPhee awoke to find him at the side of her bed and he claimed: "I've stabbed a guy."
'Emergency' text
He went on to admit the man he attacked was Mr Quail.
Prosecutor Jo McDonald said: "He told her that 'Quaily' wanted to see their daughter's computer tablet and that he was 'trying to take Ava's tablet'."
O'Neill also later stated: "I don't want to go to jail."
The killer went on to text his friend Stephen Coutts, claiming it was an "emergency".
O'Neill then turned up at Mr Coutts' door and told him: "I need to speak to you - something happened last night and I ended up killing somebody."
Blood staining
A friend of Mr Quail discovered his body when she turned up at his home and the front door was open.
Miss McDonald said: "She found Steven Quail lying on his back on the floor in the hall.
"She noted that he was covered in blood. There was extensive blood staining in the hall."
Police used DNA to link O'Neill to the killing and officers also found the phone he used to text his friend Mr Coutts.
Judge Lady Scott deferred sentencing for reports.