Jobs lost as heavy haulage company goes into administration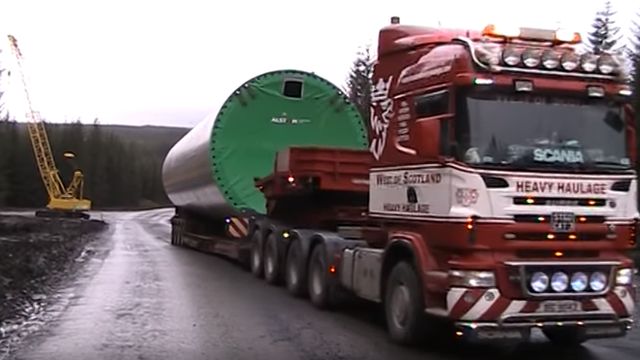 One of Scotland's leading wind turbine delivery specialists has gone into administration with the loss of 21 jobs.
West of Scotland Heavy Haulage operated one of the largest fleets of specialist haulage vehicles in the country.
The Cumbernauld-based business was founded in 1946 and had contracts in the renewable, mining, civil engineering and construction sectors.
The company has suffered from growing competition and rising costs.
Administrators FRP Advisory said the firm and its associated trading company, West of Scotland Storage Limited, also had "unsustainable cash flow problems".
The haulage company's turnover was about £11m.
'Severe' financial problems
Sub-contractors have been appointed to enable completion of the firm's three main contracts.
The business has ceased trading with immediate effect, resulting in 21 staff being made redundant. Two staff have remained to assist with the administration process.
Joint administrator Tom MacLennan, partner with FRP Advisory said: "West of Scotland Heavy Haulage and associated company were long-standing providers of specialist heavy haulage vehicles and services across Scotland.
"Unfortunately, the businesses could not overcome severe operational and financial problems, and administration was the only option.
"We will work closely with all agencies including the Redundancy Payments Office to ensure employees receive as much support as possible at this difficult time."
Minister for Business, Innovation and Energy, Paul Wheelhouse, said he was "deeply concerned" by the developments.
He said: "The Scottish government is monitoring the situation and, in the event that any employees face redundancy, we stand ready to provide support through our multi-agency initiative for responding to redundancy situations, Partnership Action for Continuing Employment (Pace).
"Through providing skills development and employability support, Pace aims to minimise the time people affected by redundancy are out of work and I hope it is of some comfort to those affected, and their families, that Pace has an excellent track record of helping those faced by redundancy to find new employment or enter self-employment."