Rothesay Pavilion revamp costs rise by £6m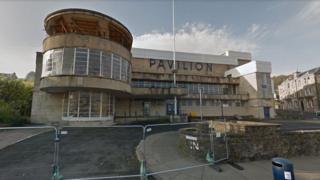 The cost to revamp one of Scotland's most significant surviving art deco buildings has risen by £6m.
Surveys showed Rothesay Pavilion on the Isle of Bute was in worse condition than originally thought, increasing the refurbishment bill from £8m to £14m.
The added costs were paid by Argyll and Bute Council and other funders.
The building was closed in September 2015 and was meant to reopen in summer 2017, but completion has now been delayed until 2019.
'Poorer condition'
A spokesperson for Argyll and Bute Council said: "Following the closure of the building, surveys and site investigations showed the building was in a much poorer condition than originally thought, including the roof, walls and foundations.
"These, including the requirement of like-for-like materials and traditional construction techniques, have had an impact on the cost of, and timescale for, the works.
"Our project team have worked hard to minimise the impact of these issues. There has been full consultation with the main funding partners and heritage bodies and everyone involved is confident the restoration can be delivered within the revised funding package and programme."
The pavilion, which opened in 1938, was at the heart of cultural life on the island for decades but fell into disrepair.
The Rothesay Pavilion Charity was set up in 2014 to manage the venue after a major council-led refurbishment.
The revamped building will feature two event venues, a shop, a café and shared office spaces.
The main hall will host music, theatre, dance, sports and weddings while the second venue will host more intimate music and comedy performances.
The pavilion will employ 30 staff and the charity hopes to attract 70,000 visitors a year.
The completed venue will be leased to the pavilion charity by Argyll and Bute Council.
---
Funding sources
Argyll and Bute Council £5.71m
Heritage Lottery Fund £4.19m
European Regional Development Fund £1.06m
Historic Environment Scotland £750,000
Highlands and Islands Enterprise £750,000
Scottish Government Regeneration Capital Grant Fund £625,000
Coastal Communities Fund £600,000
Trusts and foundations £244,000
Scottish Landfill Communities Fund £20,000