Torture claims over Scottish activist held in India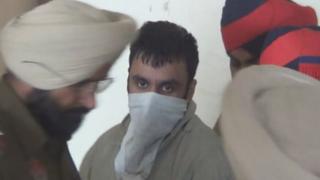 The lawyer representing a Scottish Sikh activist being held in India claims his client has been tortured by police.
Jagtar Singh Johal, from Dumbarton, was taken from a street in the state of Punjab on 4 November.
He has not been charged with any crime, and his period on remand has now been extended until Friday.
The Sikh Federation has criticised the UK government's response and said Mr Johal had made allegations of "extreme police torture".
His lawyer claimed his client had been given electric shocks and subjected to "body separation techniques".
The Foreign Office confirmed it is in contact with Mr Johal's family and staff have requested consular access from the Indian authorities in a bid to monitor his welfare.
A spokesman added: "We take all allegations or concerns of torture and mistreatment very seriously and will follow up with action as appropriate.
"When considering how to act, we will avoid any action that might put the individual in question or any other person that may be affected at risk."
The Indian authorities have not responded to requests for comment on the allegations.
Last week the chief minister of Punjab and the local police chief released a statement saying they were holding Mr Johal on grounds of financing the purchase of weapons used in the killing of prominent Hindu leaders in Punjab.
The 30-year-old - who was born in Scotland but was in India for his wedding - denies the allegations.
His brother, Gurpreet Singh Johal, said the family have had no access to him since his arrest.
Mr Johal's MP Martin Docherty-Hughes and Preet Gil MP, who chairs the all-party Parliamentary Group for British Sikhs, have expressed concerns about the case.
'Feel pressure'
Bhai Amrik Singh, the chair of the Sikh Federation (UK), said the British High Commission had not taken any action to protect a law-abiding British citizen.
He said the commission and the Foreign Office would be accused of "looking the other way".
"The prime minister and foreign secretary will feel our pressure in the next seven days in parliament via hundreds of MPs who have been contacted by constituents who are unhappy with the lack of action to secure Jagtar's immediate release and return to the UK," he added.
It is running a lobbying campaign using the hashtag #FreeJaggiNow.
Mr Johal, who arrived in India last month, appeared in court the day after he was arrested by plain clothes officers.
According to the Sikh Federation, Punjab police asked for him to spend 10 days in remand but were granted five days by the judge.
Mr Johal returned to court on 10 November but the British High Commission representative, his lawyers and his family were all denied access to him.
Punjab police were then granted another four days remand.
'Brutal torture'
That period on remand has now been extended to 17 November.
In a statement posted on its official Facebook page, the Sikh Federation (UK) said: "In our view this is to allow the police to continue with their brutal torture to try and extract a false confession in the absence on any evidence against Jagtar Singh, who only visited Punjab this year to get engaged and married.
"His passport, that has been lodged by the family with the British High Commission in Delhi, proves he has not been to Pakistan as claimed by the police and the Chief Minister of Punjab."
The Federation said the British High Commission and the Foreign Office had failed to attend the hearing, which directly resulted in the further three-day police remand.
Last week the Federation said it feared Mr Johal had been targeted over his work highlighting the Sikh genocide in 1984 and amid claims he was "influencing the youth through social media".