Suspended officers 'used range illegally'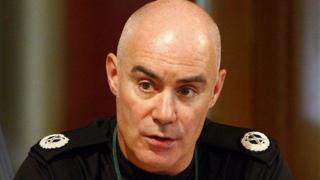 Two senior Police Scotland officers suspended as part of a criminal inquiry are accused of using the force firing range for unauthorised purposes, BBC Scotland understands.
Assistant Chief Constable Bernard Higgins and Supt Kirk Kinnell are among four officers suspended in recent days.
The alleged offences took place at the Police Training and Recruitment Centre in Jackton, East Kilbride.
No wrongdoing has been admitted by any of the officers under investigation.
The firing range should only be used in controlled circumstances by authorised officers.
Police Scotland firearms officers must complete an intensive 11-week course during which they are trained to Armed Response Vehicle (ARV) standard.
Officers cannot even use a taser stun gun without completing the course at Jackton.
Ch Insp Bob Glass and a fourth officer, who has not been named, were also suspended on Friday.
Ch Insp Glass is Supt Kinnell's deputy and was head of Strathclyde Police's armed response unit at the time of the 2007 terror attack on Glasgow Airport.
Supt Kinnell is due to retire next month while Ch Insp Glass and ACC Higgins are eligible to leave the force after completing 30 years' service in January and March respectively.
Restricted duties
The BBC understands the Police Investigations and Review Commissioner (Pirc) is examining a number of other allegations as part of the wide-ranging probe.
One is believed to concern two separate alleged incidents at a senior officer's house.
On both occasions a neighbour raised the alarm but when local officers turned up at the house the senior officer allegedly told them to go away.
The BBC understands the matter was only escalated after a second allegation was made.
Separately, the purchase of a rucksack and other "high value items" for the force, which then went missing, also forms part of the investigation.
Two other officers have been placed on restricted duties as a result of the investigation into allegations of criminal conduct and gross misconduct.
It is understood Sgt Cat Gibbons, who is based at the Road Policing Unit in Irvine, is one of the officers.
Pirc is also looking into allegations of misconduct against Chief Constable Phil Gormley, who is currently on "special leave".
That investigation is unrelated to inquiries into allegations that officers in the former counter-corruption unit abused their position when attempting to find the source of a journalist's information.
Both Mr Gormley and Mr Higgins have denied wrongdoing.
Anonymous allegations
On Friday Deputy Chief Constable Iain Livingstone confirmed the suspension of ACC Higgins, who was responsible for operational support, custody and criminal justice and three other officers,
He also confirmed two others were placed on restricted duties by Deputy Chief Constable Rose Fitzpatrick in connection with an investigation by the Pirc.
The anonymous allegations were initially brought to the SPA's attention by the Pirc on 18 October.
On Friday the SPA board suspended ACC Higgins and referred the misconduct allegations to the Pirc.
Separately, Pirc also confirmed it had referred the original allegations to the Crown Office and Procurator Fiscal Service (COPFS).
It was to determine whether the criminal allegations should be investigated by the Commissioner.
The COPFS decided that an independent investigation should be carried out by the Pirc.
A Pirc spokesman said: "The investigation is ongoing."