Abuse inquiry: Nun tells of growing up in fear in care homes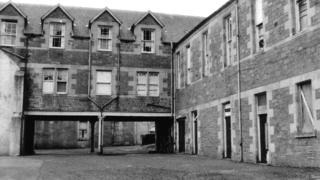 A nun who was brought up in care homes run by Catholic nuns has said the sisters in charge are lying if they deny abuse took place there.
The witness, known as Sister Louise, lived at Bellview children's refuge in Rutherglen and Smyllum Park orphanage in Lanark.
She has been giving evidence to the second phase of the Scottish Child Abuse Inquiry being held in Edinburgh.
She said her abiding memory of her time spent in the homes was fear.
The homes were run by the Daughters of Charity of St Vincent de Paul.
Sister Louise told the inquiry she was taken into care at about the age of 10.
She described being regularly beaten by nuns, forced to eat food, and crying herself to sleep at night.
On a number of occasions, she said she was sexually assaulted by a staff member.
Sister Louise said growing up in care was a badge of shame to her but now she wanted the nuns from the Daughters of Charity to take that badge of shame and wear it.
She said it might be too much to expect an apology but that they should admit what happened and be held accountable.
In an opening statement to the inquiry earlier this week, lawyers for the Daughters of Charity of St Vincent de Paul apologised to anyone who was abused in their care.
The public hearing in front of Lady Smith continues.