Man 'hurt' his elderly mother on day she died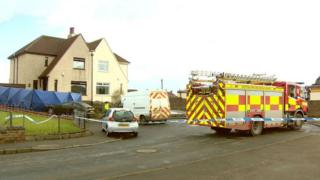 A man accused of murdering his mother was seen hurting her shortly before she died.
William Kelly, 41, denies murdering Cathy Kelly, 71, at their Kilmarnock home by pouring petrol on her and setting her on fire.
James Banks, 24, told the High Court in Glasgow that Mr Kelly and his mother were guests at his brother's 21st party in Crosshouse.
Mr Kelly denies murdering his mother at their home on 11 February.
Ashley Edwards QC asked Mr Banks how Mr Kelly appeared.
He replied: "Just weird. He was kind of growling and making faces."
'Really angry'
The witness was then asked how the accused was with his mother.
Mr Banks told the court: "Right up close to her face - angry and whispering.
"As the night went on she started getting at bit more scared."
Mr Banks said that when a taxi was called for Mr Kelly and his mother he saw them leave together.
Asked what she he was doing, Mr Banks replied: "I saw him hurting Cathy intentionally. I saw anger in his face.
"He was doing a twisting kind of thing at the back of her hair. It's not the way to help your mother out of a pub."
Mr Banks described his actions as "really rough" and admitted he confronted the accused.
He told the court: "I was really angry. I wanted to hit him.
"He said: 'I'm just helping her into the taxi, it's alright.' He wasn't angry towards me."
The jury heard Mrs Kelly died later that night.
The trial before Judge Lady Stacey continues.