Sikh activist Jagtar Singh Johal filmed in police custody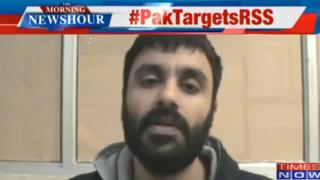 The brother of Scottish Sikh activist Jagtar Singh Johal has condemned a video filmed in police custody.
Mr Johal, from Dumbarton, has been held in Punjab since 4 November, accused of conspiracy to murder prominent right-wing Hindu leaders.
The 30-year-old has also been accused of involvement in the murder of a Christian priest.
Mr Johal's lawyer has previously accused the police of torturing his client, who denies all the allegations.
In the latest development, a video of Mr Johal in custody has been screened on Indian TV.
Gurpreet Singh Johal said he was "shocked" when he saw the footage and claimed it jeopardises his brother's right to a fair trial.
He told BBC Scotland: "The only thing I can see from the video is that it seems like a hostile situation.
"Allegedly there is a confession but I don't see a confession there.
"There is nothing there.
"He is just saying that he has translated some articles for a website."
He also questioned how anyone managed to film his brother while he is in custody and fears he has been "found guilty without a trial".
He also urged the UK government to do more to help Mr Johal.
The Scottish government has previously said it is "deeply concerned" about Mr Johal's detention.
Punjab Police have denied the torture allegations.