Jury told son 'accidentally' set his mother on fire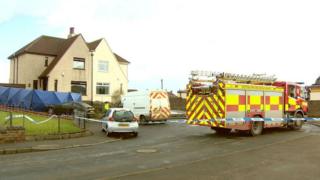 A man accused of murdering his mother told a jury he set her on fire by accident.
William Kelly denies killing Cathy Kelly, 71, at their home in Kilmaurs Road, Kilmarnock, on 11 February.
Mr Kelly, 42, said he spilled petrol over his trousers and shoes while cleaning a car part in the garage.
Minutes later he found his mother on the living room floor and lit a cigarette as he knelt over her to check if she was ok.
Mr Kelly told the court: "I've sparked the lighter to light the cigarette. Then it was a blue flash."
Gordon Jackson QC asked his client: "You are saying your mother was accidentally set on fire?"
Mr Kelly replied: "Yes."
'Black eyes'
The court has heard from Mr Kelly's former partner, Eleanor Banks, who claimed he beat up his mother and then doused her in petrol before setting her on fire.
Mr Kelly was asked if this was true and denied the allegation.
The High Court in Glasgow heard that all three were out at a 21st birthday party that night.
Shortly after they returned home, the house was on fire and Ms Kelly was dead.
Mr Kelly denied ever hitting his mother and said she was "everything to me".
He also claimed a text message he sent last year, which stated: "I'll give her two black eyes for Christmas", was a joke.
Mr Kelly suffered injuries to his legs, hands and face in the blaze.
45% burns
Earlier the court heard how his mother suffered burns to 45% of her body.
But pathologist Dr Emma Kemp said she may have been dead or close to death when the blaze started as no soot was found in her windpipe.
Asked if that could be down to blows to the head minutes before, Dr Kemp confirmed the post-mortem examination found evidence of blunt force trauma.
The court heard this was consistent with Mrs Kelly being kicked, punched and then set alight.
The jury was told that the cause of Mrs Kelly's death was unascertained.
Asked what caused Ms Kelly's death in her own living room, Dr Kemp replied: "A head injury, suffocation or burns or a combination of all three."
The trial before judge Lady Stacey continues.