No label? No problem as Gerry Cinnamon sells-out Barrowlands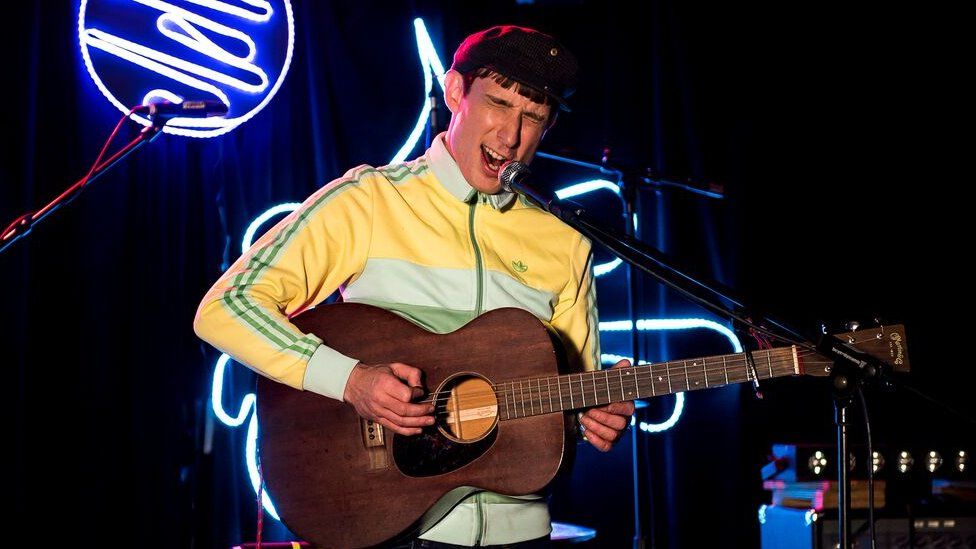 Gerry Cinnamon does not have a record label or an agent but he is about to stage two sold-out gigs at Glasgow's famous Barrowlands venue.
The first one sold out on the morning the tickets went on sale, before the singer could even post a link on social media.
The second sold out in just five minutes.
The Barrowlands gigs on Friday and Saturday will be the Castlemilk musician's biggest yet but Gerry has been building up a cult following for years.
His word of mouth success has been carried onto social media where his popularity is clear.
Tweets on his account are full of fans praising him, looking for tickets, with many still excited about his album which was released in September.
His loyal army of fans are known for creating an exciting atmosphere and even have their own chant to KC and The Sunshine Band's "Give it Up", using Gerry's name instead of the song's title.
Gerry hopes the atmosphere at the latest concerts will be even better now people know the songs following the release of "Erratic Cinematic".
"This is going to be the first big gig since the album came out, so the Barras is going to be insane," the singer said.
"I've been playing for the past two years with people not knowing the songs, so you have to work the crowd and play the odd cover hoping they would learn the songs from the live set.
"So now it is a totally different ball game now that I've got some content."
Gerry's music mixes acoustic guitars, harmonica and vocals along with loop pedal harmonies and kick drums.
Since 2015 he has played a support slot at Glasgow's Hydro venue, T in the Park (twice) and a storming set at this year's TRNSMT festival at Glasgow Green.
He'll be returning to the main stage at TRNSMT next year.
T in The Park, Scotland's biggest festival until it ended last year, had been a goal for Gerry for many years.
Two years ago he played to a packed T-break stage before opening King Tut's stage in 2016.
He says that set, although early in the day, felt like an evening headline slot in the 8,000-capacity tent.
"When I was a wee guy I used to have this recurring dream about the King Tut's stage at T in the Park," Gerry says.
"At the end of the dream, the crowd would be bouncing and at the end of the dream I put my hand up.
"I had another couple of dreams and the Barras and all that were involved - so I've kind of seen it coming."
It hasn't always been big venues and big crowds for the singer though.
Over the years he has been involved in many different trades but he was never too far from his guitar.
"I worked as a scaffolder, worked as a chef, tried my hand working in a coffee shop, tried my hand as a joiner," Gerry says.
"But every job I've had I just end up writing tunes and skiving - so everything has been leading up to it, but I've never had any ambition of getting big."
The road was a long one to get to where he is today - playing the occasional gig but finding that promoters were always ready to pounce, taking most of the night's earnings.
He was ready to give music up before a Glasgow bar gave him the chance to do an open mic night that was originally run as a workshop to warn young people about the dangers of the industry.
Eventually it became bigger and bigger.
"Some nights The Priory was absolutely bouncing," he says.
"People were thinking it was a gig but it was just a jam night."
The decision to go it alone in music today is one that is rarely taken but by avoiding what he called "toxic characters" he has been able to do his own thing on his own terms.
"I just put out some free content on Soundcloud and it just got bigger and bigger with no promotion whatsoever, no industry backing, no radio, not even really any social media presence," Gerry says.
"What I find in terms of the small success that I've had, with no backing, just doing it off my own back is the way I wanted to do it - I wanted to prove that you can do it on your own."
Gerry feels he has reached the stage where he can give advice to young people wanting to get somewhere in music.
He says: "If you're a wee guy or lassie and you're writing tunes but you feel like you're away to patch it, away to quit, just realise people do care.
"If you can tap into it and keep plugging away, just do what you do and believe in yourself then it can happen.
"As long as you write good tunes, that's all that matters."
Related Internet Links
The BBC is not responsible for the content of external sites.