Chemical leak cleaned up at New Victoria Hospital in Glasgow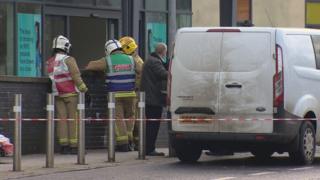 A chemical spillage outside the New Victoria Hospital in Glasgow has been cleaned up.
The alarm was raised after a container of formalin was found to have opened in the back of a van.
Four fire appliances and an environmental protection unit were called to the scene on Grange Road at 10:25.
NHS Great Glasgow & Clyde said the formaldehyde-based chemical was being transported in a sealed container.
A spokeswoman said: "When the delivery van arrived at the site it was discovered that one container had accidentally opened in transit.
"Our staff responded quickly and appropriately, linking in with the emergency services.
"A chemical team from Scottish Fire and Rescue promptly dealt with the spillage, while police directed members of the public to other entrances while the situation was dealt with."
Two staff members were checked as a precaution but were both said to be fine.
The spokeswoman added: "There was no impact on patients and the hospital has now returned to normal working."
The £100m hospital opened in June 2009 and provides outpatient clinics for up to 400,000 patients a year.