Police probe latest 'targeted' Asian jewellery raid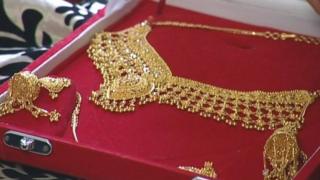 More than £100,000 of Asian gold jewellery was stolen from an elderly couple's home while they were on holiday.
Detectives believe the targeted robbery is linked to a spate of similar crimes in the Glasgow area in recent months.
Precious family heirlooms and bespoke pieces were among the items taken after the house in Milngavie was ransacked.
PC Kieran Bradshaw said: "The housebreaking and the theft has been devastating for the couple.
"They had been away on holiday visiting family and came back to find the house had been ransacked and the jewellery, which had been in their family for generations, stolen."
He said there would be no reason for a vehicle to be in Dunellan Road unless it belonged to a resident, a visitor or a delivery driver.
PC Bradshaw said the culprits may have been in the a cul-de-sac in the days before the robbery or at the house between 9 and 13 December.
He added: "There have been a number of similar crimes at homes throughout the Glasgow area, for which we are following a number of lines of inquiry, and we believe this break-in is linked to those."