Kidnap victim was burned with hot knives and hit with gun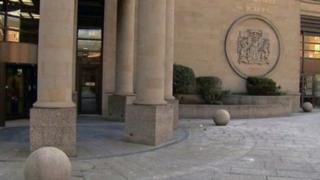 A kidnap victim was burned with hot knives and hit with a gun, a court has heard.
David Morrin was taken from his home in Netherburn, South Lanarkshire, amid claims he owed £18,000.
His abductors told his father his son would die if he failed to pay up but he was freed by armed police a day later.
Gary Roxburgh and Zak Bennett, both 26, admitted assault and abduction at the High Court in Glasgow.
Mr Morrin was seized in 19 June this year at the family home while his parents were away.
He had earlier met the two attackers, whom he knew, and returned home with them.
They were at first said to have been in "good spirits" but in the early hours of the morning, the atmosphere suddenly turned.
Heated blades
Mr Morrin and a friend, Craig Johnstone, were ordered to bind their own feet and hands together by the men, who were brandishing a gun and knives.
Prosecutor Maryam Labaki said the men accused their captives of "setting us up" and demanded to "know the truth".
Bennett held a knife to Mr Johnston's neck at one point - and Roxburgh then heated up the knives.
Miss Labaki: "He turned on the gas cooker rings and laid the knives on top while making threats to burn their faces."
Roxburgh pressed one of the heated blades onto the leg and arm of Mr Morrin.
Mr Morrin was also struck on the head with the butt of a handgun as he was taken away to a flat in the Possil area of Glasgow.
He was then ordered to phone his father and told him he was "okay", but that he had been "burnt".
The father later called police after further contact with the men, and agreed to pay £3,450 to allow "the safe release of his son".
Police monitored the "handover" at services on the M74 in Hamilton, Lanarkshire.
It led them on 20 June to the flat where the "disorientated" victim was discovered on a sofa with burn marks to his arms and legs.
He was taken to hospital and transferred to a specialist burns unit.
Roxburgh, from Milton, and Bennett, of Wishaw, Lanarkshire, were tracked down several days later.
Judge Lord Mulholland adjourned sentencing in the New Year for reports.