Scottish Sikh activist held on remand by Indian government agency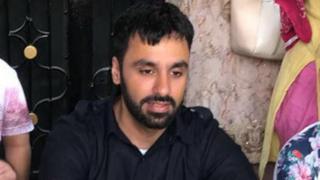 A Scottish Sikh activist being held by police in Punjab has been taken into custody by India's National Investigation Agency (NIA).
Jagtar Singh Johal, from Dumbarton, is accused of conspiracy to murder prominent right-wing Hindu leaders.
The 30-year-old, who was arrested on 4 November, has also been accused of involvement in the murder of a Christian priest.
The NIA has three days to question Mr Johal while he is on remand.
The government agency investigates cases posing a threat to national security.
The ruling was given at a special NIA court hearing in Mohali.
Mr Johal's lawyer Jaspal Singh Manjpur told the BBC that the NIA had sought to hold Mr Johal on remand for 12 days.
Torture claims
Agents want to question him in connection with the murder of Shiv Sena leader Durga Parsad Gupta in Ludhiana last year.
The court hearing was held in private but broadcast via video link.
There was a high level of security as Mr Johal was brought into the court - with police officers deployed in large numbers in and around the building.
The court allowed Mr Johal's father-in-law Balwinder Singh to meet him after the hearing.
Mr Singh told the BBC's Arvind Chhabra: "He said he was fine."
However, Mr Singh also pointed out that he was accompanied by police officers at the time which may have restricted what he could say.
Mr Johal has been in police custody since he was arrested days after his wedding last month.
His lawyer has previously accused the police of torturing his client, who denies all the allegations.
The Scottish government has said it is "deeply concerned" about Mr Johal's detention.
Punjab Police have denied the torture allegations.