Couple killed in Cameron House Hotel fire named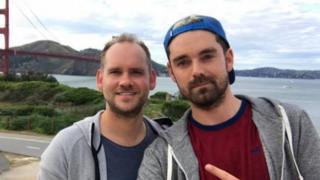 Two men who died when a fire tore through a luxury five-star hotel on the shores of Loch Lomond have been named.
Simon Midgley and Richard Dyson, believed to be from London, were staying at Cameron House Hotel when the blaze broke out on Monday morning.
Police have not confirmed the identity of those who died, but relatives have paid tribute on social media.
The hotel's director has praised the actions of the emergency services in preventing further tragedy.
Firefighters who brought a couple and their baby to safety from an upper floor have been hailed as "heroes".
Andrew and Louise Logan, and their son Jimmy, from Worcestershire, were taken to hospital after being brought to safety, but were later discharged.
More than 200 guests were evacuated from the building when the blaze broke out. A joint investigation into the cause of the fire is under way.
Social media posts suggested that Mr Midgley and Mr Dyson were on a winter break in Scotland.
A post on Mr Midgley's Instagram account on Saturday showed pictures of Cameron House Hotel and said: "Home for the weekend."
Relatives have been expressing their shock at news of the couple's deaths.
Mr Midgley's sister posted a picture of her brother and his partner on Facebook, while another relative wrote: "I'm beyond heartbroken."
Kate Baxter wrote on Twitter: "Such unbearably sad news.. RIP @SimonMidgleyPR, a shining star in our wonderfully close-knit industry."
According to his Facebook page, Mr Midgley was a freelance journalist at the London Evening Standard and ran his own PR company, while Mr Dyson is believed to be a TV producer.
Police and firefighters remained at the scene on Tuesday morning, with the scale of the damage becoming more apparent.
BBC Scotland's Andrew Black was allowed on site and said: "The damage to the building is pretty extensive, especially the upper floors. There's a smell of burning wood and we could hear a fire alarm from part of the building still going off."
The BBC understands that a wedding due to take place at Cameron House hotel this weekend has been moved to another luxury hotel.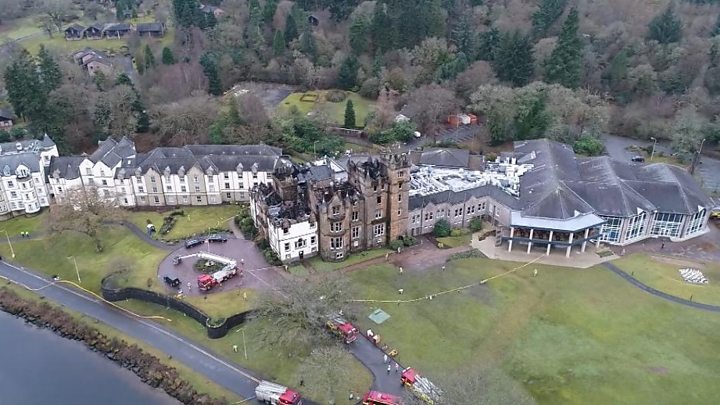 In a new statement, Cameron House's director, Andy Roger, praised the "very swift actions of the emergency services".
He said: "Everyone associated with Cameron House Hotel is still coming to terms with the events of yesterday and we are all hugely conscious that two people tragically lost their lives in the fire.
"Their families and friends are foremost in our thoughts as we co-operate fully with the investigation teams to try to establish the circumstances surrounding this terrible incident.
"The emergency services were on the scene long into the night and I cannot praise their efforts highly enough. They are true heroes. The firemen bringing out a couple and their young child by ladder from a second-floor room was a heart-stopping moment for all those who witnessed it.
"We're also enormously grateful for the many, many offers of practical support and good wishes from the UK hospitality industry and also from the local community, which has rallied around to help. It's been a humbling experience, but we are a small, tight-knit community on Loch Lomond and a response like that is typical of our many friends and neighbours."
Mr Roger said the hotel had made arrangements for the vast majority of the guests to travel home or continue with their breaks and he thanked them for their patience and "good spirits".
He also paid tribute to the staff at Cameron House who he said had shown "an enormous degree of care and teamwork throughout the last two days".
Local people have been speaking of their shock and sadness at what happened at the hotel.
One woman told BBC Scotland: "We are just very sad for all the families involved and so sorry for the people who work there."
Another added: "It's absolutely horrific. I think the local community really feels it."
Reverend Ian Miller, a retired minister who lives locally and was called in to offer guests support in the aftermath of the fire, said those affected "fell into two groups".
"There were those in the side bedrooms which weren't really touched and they just realised they had escaped something terrible," he said.
"But for those in the main building then there were degrees of trauma. Some had escaped with virtually nothing.
"One man came out in his underwear. Another woman told me she just grabbed her baby, change bag and moved out."
Speaking on BBC Radio's Good Morning Scotland programme, John Gow, from forensic investigations firm IFIC, said: "There will be a number of strands to this investigation, running in tandem.
"Obviously, sadly, there is the death investigation due to the fatalities that occurred.
"There is the origin and cause investigation which is establishing how the fire started and spread throughout the property.
"It is also likely there will be an investigation to establish if the fire precaution measures were adequate and operated as they should."
Cameron House, an 18th Century mansion, was converted into a luxury hotel and resort in 1986.
It is a popular wedding venue and houses the Michelin-starred Martin Wishart at Loch Lomond restaurant.