Police seize £3m of drugs and mobile production lab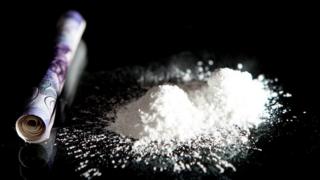 Detectives have seized drugs with a street value of more than £3m during a series of raids.
Officers targeted five organised crime groups and recovered significant amounts of drugs including crack cocaine, heroin and cannabis.
The biggest haul, which exceeded £2.7m, was made following the discovery of a mobile drug lab in Glasgow.
The vehicle, which had moulds and a hydraulic press, is believed to be the first of its kind in Scotland.
Police Scotland said eighteen people were arrested during the nine-day operation.
The raids came as officers reported an increase in the prevalence of crack cocaine and counterfeit prescription medication.
Bulking agents and a significant quantity of Class A drugs were also seized from the mobile lab.
'Dangerous groups'
Specialist officers worked with partners including HM Revenue & Customs, the National Crime Agency and the Crown Office and Procurator Fiscal Service to target the groups.
Det Ch Supt Gerry McLean, head of Police Scotland's Organised Crime and Counter-Terrorism Unit, hailed the significance of the raids.
He said: "These criminals only care about themselves and their profits and they have to be stopped.
"As a result of these operations, we are reducing the availability of hard drugs to the Scottish public, addressing an issue which is a blight on the country.
"Members of the public have told us the activities of serious and organised criminal groups are a key concern to them, and our officers, locally and nationally, are dedicated to eradicating the risk posed by the illegal actions of these gangs, which can decimate communities."
He also urged the public to help bring criminal gangs to justice.
He added: "We use a range of intelligence leads, many of which come directly from affected communities which have decided enough is enough and they aren't prepared to tolerate these criminal activities anymore.
"One small piece of information about an address or a vehicle or a person can be what makes all the difference in an investigation which could result in the unravelling of one of these gangs."