All council high-rise flats in North Lanarkshire 'could come down'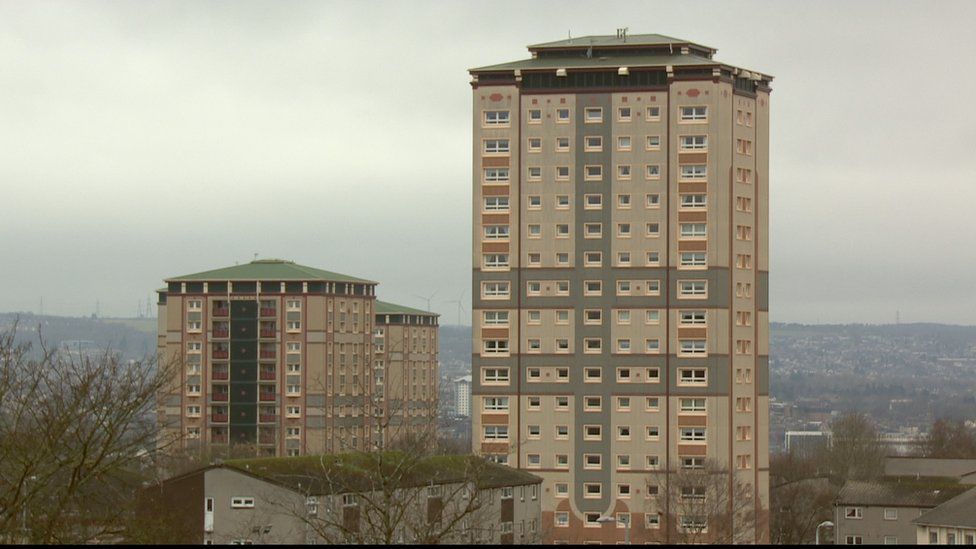 Scotland's biggest council landlord is considering proposals to knock down all its high-rise flats over the next 20 years.
North Lanarkshire Council has 48 tower blocks with about 4,000 homes between them.
The council is to run a consultation on how to gradually replace them all with low-rise buildings.
The local authority stressed it was a long-term plan and was unconnected to the fire at Grenfell Tower in London.
They said that their tower blocks were safe to live in, but that it was becoming increasingly difficult to modernise them to the level that residents wanted.
The scheme would transform the skyline of Coatbridge and Motherwell, which have almost 40 tower blocks between them. Blocks in Airdrie and Wishaw would also come down.
North Lanarkshire Council is one of the biggest council landlords in the UK and is understood to be the first authority with numerous high rise dwellings to consider demolishing all of them.
The council said the proposals were part of a £500m strategy to provide better homes, regenerate town centres and create jobs.
Speaking on the BBC's Good Morning Scotland programme, deputy leader Paul Kelly said the policy would transform lives.
He said: "The Grenfell incident and the tragedy that was Grenfell is not the driving factor in this. We've worked before Grenfell on the safety in our towers with both the fire brigade and our residents.
"We've invested heavily in them over the years to make sure they're at the highest levels of safety and we'll continue to do so going forward.
"But this decision today is not related to Grenfell this is just about our ambitious programme to continue to develop modern council housing in North Lanarkshire for our residents."
Council leader Jim Logue said: "These are hugely ambitious plans. North Lanarkshire is Scotland's biggest council landlord and we are in the midst of the biggest council house building programme in a generation in Scotland.
"But we shouldn't rest on our laurels. Towers were once the future of housing and we have invested steadily over the years in them. But there is no doubt that we are constrained in improving them by the construction; some of our towers were built 55 years ago.
"The quality of homes we are now able to build is exceptional, with great access, adaptability and energy efficiency."
Friends will always be friends
BBC Scotland spoke to one former tower block resident, Jim Leonard, who moved to a bungalow last year after nearly 20 years in Lodge Tower in the Flemington area of Motherwell.
Mr Leonard said he enjoyed much of his time in the block but felt such buildings had now had their day.
He said he wanted to reassure current residents that they would still be able to stay in touch with friends and current neighbours after they moved.
Mr Leonard said: "I see my friends from the tower on a regular basis. One of my old neighbours now lives just across the road from me and we still go out as a group.
"You can leave bad neighbours behind but friends will always be friends."
Mr Logue said he wanted to find ways of encouraging more people to live in town centres to help turn around their long-term decline.
He said: "The past few decades have also seen a move away from people living in and near our town centres. It's essential that we do something to regenerate these towns, which have been hit by the rise of internet shopping and large out-of-town retail centres."
The council said that if a block was demolished, it could look at how to house current neighbours and friends close to each other if that was what they wanted.
The council plans to hold a full consultation with all its tower block residents, starting in February.
While it plans to replace the blocks with low-rise houses, it still has not decided what form these should take - for instance, how many low-rise flats, semi-detached houses or bungalows could be built. This will be one of the issues which the consultation covers.
Allan Graham, the council's convener of enterprise and housing, said: "I understand that some residents of our towers will be reluctant about these plans and enjoy living in their current homes. That's why it's important we really listen to them as part of a consultation exercise before making final decisions.
"It's hard to understate the significance of these proposals. They will create thousands of jobs over a sustained period and provide a real boost to tenants and our local economy."