Parents devastated by Cameron House Hotel fire death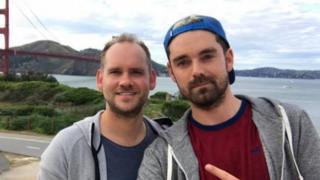 The parents of a man killed by a fire at a luxury hotel on the shores of Loch Lomond have been left devastated by his death, according to the head of their local church.
Simon Midgley, 32, and Richard Dyson, 38, died after the blaze at the Cameron House Hotel on Monday morning.
John Payne of the Hope Church in Harrogate said Mr Dyson's parents were members of the congregation.
He said they had asked for prayers to be said for the family.
Police Scotland has now officially named Mr Midgley and Mr Dyson, both of Somerfield Road in north London, as victims of the fire.
The force said that emergency services remained at the scene while investigations into the cause of the blaze continued.
A report into the incident will be sent to the procurator fiscal's office.
A spokesman for Cameron House said on Wednesday: "The hotel complies fully with all relevant fire safety regulations and its fire safety certification is complete and up to date. We continue to co-operate with the emergency service as they investigate the cause of this tragic incident."
'Awful time'
In a Facebook post, Hope Church pastor, Mr Payne, wrote: "I'm afraid I'm writing with the tragic news that Roger Dyson's son was one of the fatalities in the Loch Lomond fire.
"As you can imagine both Roger and Val are devastated. They have asked us to pray for them and the family.
"Please pray for them, for the God of all comfort to make his presence so powerfully known in the midst of their pain.
"Our hearts go out to them and I'm sure they'd welcome your love and support at this awful time."
Mr Dyson, who grew up in Wetherby, and Simon Midgley had been staying at the five-star hotel on a winter break when the fire broke out.
Flowers from Mr Midgley's mother, left at the entrance of Cameron House, were dedicated to her "wonderful son, Simon and his soul mate".
In a tribute to journalist Mr Midgley, who worked as a freelance writer for the Evening Standard, former chancellor and current editor of the paper, George Osborne, said he would miss his "adventurous spirit".
'Thoughts and prayers'
Mr Osborne said: "The team here are very sad to hear the awful news about Simon and Richard.
"We will miss Simon's adventurous spirit. Everyone sends our thoughts and prayers to his family at this impossible time."
The Royal Holloway University of London also paid tribute to Mr Dyson, who was a former student.
The university said: "We are very sorry to hear of the death of our alumnus Richard Dyson, who was tragically killed with his partner in a fire on Monday at the Cameron House Hotel. Condolences to his & Simon's families."
More than 200 guests were evacuated from the building, which is understood not to have a sprinkler system, when the blaze broke out.
Among those to escape the flames were Andrew and Louise Logan, and their two year old son Jimmy, from Worcestershire.
A firefighter was pictured carrying the child on a ladder after rescuing him from an upper floor of the burning hotel.
They were taken to hospital after being brought to safety, but were later discharged.
Cameron House, an 18th Century mansion, was converted into a luxury hotel and resort in 1986.
It is a popular wedding venue and houses the Michelin-starred Martin Wishart at Loch Lomond restaurant.