Council appeal refused in women's equal pay dispute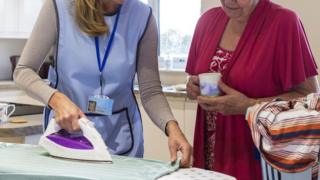 Unions have praised a court decision to refuse a Glasgow City Council appeal in a dispute over equal pay for women.
Campaigners won a legal case in August when it was ruled that a pay re-grading scheme may have been less favourable for women workers.
The Court of Session has refused the council's bid to appeal this judgement.
It follows a series of cases concerning the way jobs were re-graded to address equal pay issues. The scheme dates back to 2007.
About 6,000 women are already pursuing claims against the council.
Campaigners claim that women such as home carers were left earning thousands of pounds less than men in jobs such as gravedigging or refuse collection.
Many of those challenging the city council are part of the legal action group Action 4 Equality.
Trade union Unison said the council scheme was unfair because it made it impossible for employees to know if they were being paid equal pay for equal work.
Unison Scotland's Peter Hunter said: "Glasgow city council has shown an appetite for endless litigation that has delayed justice for thousands of women.
"The court could not have been more clear. The council do not have a valid pay system and they must address their obligations to women and do that now."
Talks over compensation are expected to begin in January 2018.
Susan Aitken, leader of Glasgow City Council, said: "This is a significant development in this long-running issue.
"We will continue to discuss this with claimants' representatives as part of ongoing negotiations which will continue into the New Year.
"I remain committed to working with all parties to achieve a resolution to this dispute."
GMB Scotland's Rhea Wolfson said: "This decision from the court gives power back to the women of Glasgow."