Errington's Dunsyre Blue cheese recalled over listeria concerns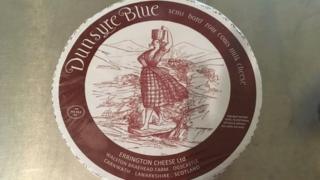 A cheesemaker that was named as the most likely source of an E.coli outbreak last year has recalled one of its products over listeria fears.
South Lanarkshire-based Errington Cheese is recalling a batch of Dunsyre Blue after listeria monocytogenes was found by a wholesaler.
Dunsyre Blue is an unpasteurised cows' milk cheese.
Health experts said it was the likely source of an outbreak of 26 cases of E. coli O157 last year.
One of the cases was a three-year-old girl, who later died.
The Crown Office later said there was no evidence available to link the cheese with the child's death in September 2016
Food Standards Scotland has now said Errington Cheese Ltd has "voluntarily" recalled a batch of Dunsyre Blue after listeria was detected.
The batch number involved is J9, it said.
The food standards body advised people who had bought the product not to eat it.
They said customers should return it to where it was bought for a full refund.
Symptoms caused by Listeria monocytogenes can be similar to flu and includes high temperature, muscle ache or pains, chills, feeling or being sick and diarrhoea.
In rare cases, the infection can be more severe, causing serious complications, such as meningitis.
Older people, pregnant women and babies are at most risk.