Anger over Canadian Gaelic teacher's visa refusal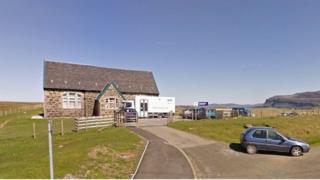 Parents have reacted with anger to a Home Office decision to reject a visa application from a Canadian to teach Gaelic at a Scottish primary school.
Sìne Halfpenny, from Nova Scotia, was the only person to apply for the vacancy at Bunessan Primary on Mull, which had been advertised since June.
She studied at the Sabhal Mór Ostaig on Skye before becoming a Gaelic teacher in her native Canada.
The Home Office said her application had "failed to meet requirements".
Argyll and Bute Council advertised the vacancy after parents called for a Gaelic education unit at the school, which has nearly 40 pupils.
'Complete miracle'
However, despite a campaign on social media and pupils making a video for YouTube to draw candidates to the island for the post, the council only received one application.
They interviewed Ms Halfpenny and offered her the job subject to visa requirements in September.
The local authority is now appealing the Home Office decision.
Andy Johnston, who chairs the Bunessan Primary School Parent Council, said parents were determined to get the unit up and running.
He said: "Apparently there were only five teachers in the whole of Scotland who qualified last year to teach at a Gaelic medium unit.
"They're like hen's teeth and if you do find one then you know that another community must have lost out. So to find a teacher who was willing to come from Canada was a complete miracle.
"We have three new P1s due to start and whose parents all want them to learn Gaelic, but now we have no teacher despite having an excellent candidate who wants to do the job.
"Any sane person could surely not object to this."
Certificate of sponsorship
Local MSP Mike Russell has asked the Scottish government to support the council's appeal, while Scotland's Education Secretary John Swinney has written to Home Secretary Amber Rudd calling on her to look at the matter urgently.
In his letter, he said he was disappointed that the Home Office had decided to halt progress on Ms Halfpenny's visa application given the demand for Gaelic education in Scotland and the "educational benefits" she would have brought.
He added: "As you are aware, education is a devolved matter for Scotland and I would hope that these decisions would have been discussed with us in advance so that our delivery is not affected adversely."
A Home Office spokesman said: "All visa applications are considered in line with immigration rules and on the evidence provided.
"Ms Halfpenny's visa was refused as she did not submit a Certificate of Sponsorship.
"Her sponsor's application, for a restricted Certificate of Sponsorship, was rejected as it failed to meet the required points."