Scotland's first 2017 Christmas baby born in Glasgow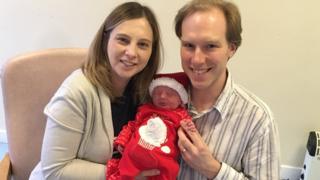 Proud parents Karen and Michael Ratcliffe have had Scotland's first Christmas baby of 2017.
Their baby boy was born on the stroke of midnight, says Glasgow's Queen Elizabeth University Hospital.
Weighing 7lb, the Ratcliffes have still to choose a name for their son. The family said both mum and baby "are doing very well".
The couple live in Scotstoun in Glasgow. Dad Michael (33) is originally from Melbourne, Australia.
Very lucky
Delighted mum Karen (36) said: "He was due in January, so we weren't expecting him, but having him on Christmas is quite exciting.
"His head was out at 23:59 and his body came out just seconds after midnight.
"He's been great, a very calm baby. We're very lucky."
A newborn also arrived at 00:10 at the Princess Royal Maternity hospital in Glasgow.
At the Royal Infirmary of Edinburgh a baby girl was delivered at 00:14 on Christmas morning.