'Despicable' armed thief steals charity tins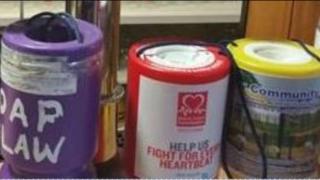 A man brandished a firearm to steal five charity tins and a two-figure sum of cash from a bowling club in South Lanarkshire.
Detectives said he walked into the club, in the village of Law, on Saturday between 12:30 and 13:00 and threatened two members of staff.
He demanded cash from the man and woman before fleeing.
Police said no-one was injured, but that staff were left "very upset" by the incident.
The man responsible was described as being about 6ft tall, with a thin to medium build. He was wearing dark grey jogging trousers, a black or grey Adidas hooded top and white trainers.
'Pretty despicable'
He was also carrying a JD Sports plastic bag and a cream canvass bag.
Officers have been carrying out door-to-door inquiries and are checking CCTV of the area.
Det Sgt Diane Barr appealed for anyone who may have saw anything suspicious before the robbery to come forward.
She said: "Whoever carried out this crime clearly has no regard for anyone but themselves.
"To steal charity tins is pretty despicable behaviour and I am appealing to members of the local community to consider if they noticed anything suspicious around the time of the incident."
She added: "I would also urge people to get in touch if they come across any of the stolen charity tins, which may have been discarded by now. If you have any information, please do contact us."