Woman struck by bottle in station attack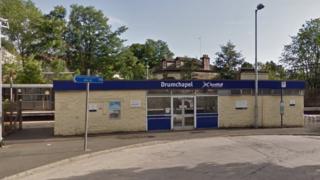 A woman was struck by a bottle at a Glasgow station after being harassed by a group of men.
The men boarded the train at Anniesland at about 17:25 on 22 December and one of them started harassing her.
When he was getting off the train at Drumchapel he threw a bottle of beer at her, hitting her shoulder before shouting sexual comments at her.
The man was white, in his late teens, about 5ft 10in, wearing a black beanie hat, tracksuit and air-max trainers.
British Transport Police said they would not tolerate such behaviour and appealed for information.