Coastguard team rescues dog from rocks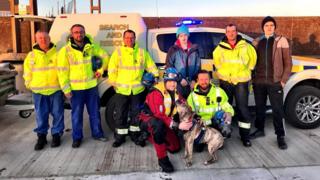 A dog has been saved by a coastguard rescue team after falling onto rocks on the Clyde coast, between Saltcoats and Stevenston.
The Ardrossan Coastguard Rescue Team were called out at about 15:00 after Nico, a Staffordshire bull terrier, leapt over a sea wall.
A member of the public had climbed down to help Nico.
The dog was taken to safety using an animal rescue bag and the member of the public was escorted off the rocks.
Rescuers said Nico was "uninjured and seems completely unaffected by his adventure".