The short-haired Scottish trailblazer who won the World Cup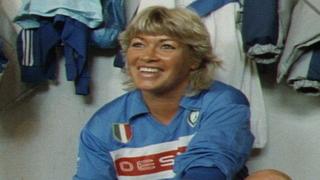 Scotland's most successful female footballer was almost signed by Celtic - until the scout discovered she was a girl.
Rose Reilly had a career that would turn any top male Premiership player green with envy.
She ditched a Commonwealth Games athletics place to pursue a career in European football.
It culminated in the striker being voted the best player in a World Cup-winning Italy team in 1983.
Rose - now 63 - blazed a trail for women in the beautiful game long before most women knew they had a place in it.
From a kickabout with the boys at home in Stewarton, to playing at the San Siro for AC Milan and captaining Italy in the World Cup, she always knew her passion was the only thing she wanted to do.
After being chosen to represent Scotland in the Pentathlon at the Commonwealth Games, she quit football to control what her coach referred to as "fitba thighs".
She lasted a week before announcing her athletics career was over.
Rose started playing football as soon as she could walk and interest in her skills started early.
At the age of six, the manager of the local boys' team asked her to play.
She remembered one particular game where there was a Celtic scout watching.
In a rare interview, she told BBC Scotland's John Beattie Show: "I was number seven and I scored eight goals that day. So the Celtic scout said he would like to speak to the wee boy, number 7.
"The coach said: 'That's a wee girl'.
"The scout said: 'No, the one who scored all the goals'.
"So I spoke to the scout and he couldn't believe I was a wee girl.
"That was my Celtic career over when they knew I was a female and I was so gutted because I thought if I was good enough I should have been playing for Celtic."
Rose kept playing and kept cutting her hair to fit into any team line-up at a moment's notice.
She was also referred to as "Ross".
After turning her back on the Commonwealth Games, Rose asked a friend in newspapers to find out if there was any football for women in Europe.
She discovered a team in France - Stade de Rheims - and she decided that was where she was going.
"Me and my sidekick, a friend called Edna who was a great footballer, decided to go there for a trial," she said.
"I had just turned 17 and we were cheeky, saying we don't do trials, we are over to sign.
"So off we went and ran riot in Rheims and they signed us on the dot."
After six months at Rheims, the women were scouted by AC Milan.
Rose said: "They offered us a contract. Now they play their home games in the San Siro, so you don't say no to that."
By the time Rose was 18 she was playing for AC Milan.
She was living her dream and felt at home in Italy but it was not easy.
She said: "I was on my tod, in a hotel at Lake Como, near the training ground.
"I used to speak to myself in the mirror at night so someone was speaking back to me.
"Nobody spoke English and I hadn't a clue about Italian but I decided I was going to make it.
"I bought the sports newspaper and I bought a dictionary and decided I was going to learn three words a day.
"Four was too much because I didn't really bother with my education - and I started speaking with the local people."
She was voted best player in the victorious Italian World Cup team that beat USA in the final in China in 1983.
She won eight Serie A league titles, four Italian Cups, and the Golden Boot in 1983.
She captained Italy 13 times during her international career.
Little-known back home in Scotland, Rose was a big star in Italy.
At one point she was asked to play for her former team in Rhiems and ended up playing in Italy on a Saturday, then France on a Sunday night. That year she won the French league and the Italian league.
Rose is still the only Scottish footballer ever to win the World Cup.
She put it all down to sheer hard work: "In France and Italy we trained in the evenings. I used to train myself at lunchtimes to get better.
"I had such a love and passion for the game, I worked on every aspect.
"Wherever I went I always found a wall and a slanted roof for my headers."
But although she never played for Scotland, she never forgot her roots, whatever level she reached.
She said: "When I was playing for Italy I was so proud to play for them but it was always a Scottish heart beating under the Italian jersey. "