Assistant Chief Constable faces new misconduct claims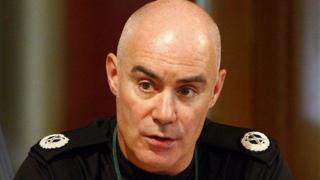 Police Scotland Assistant Chief Constable Bernard Higgins is facing two fresh complaints about his conduct.
The Police Investigations and Review Commissioner (Pirc) is already conducting two investigations into Mr Higgins, who has denied any wrongdoing.
One concerns criminal allegations while the other is probing misconduct claims.
But the Scottish Police Authority (SPA) has now asked Pirc to assess fresh anonymous claims which were initially reported to the watchdog last month.
Pirc is currently carrying out an investigation into criminal allegations facing Mr Higgins and three other officers - Supt Kirk Kinnell, Ch Insp Bob Glass and Sgt Cat Gibbons.
The probe was launched on 24 November last year after the Crown Office and Procurator Fiscal Service (COPFS) sanctioned the move.
All four officers have been suspended.
One of the allegations being examined by the criminal investigation is that Mr Higgins and Supt Kirk Kinnell used the force firing range at Jackton, East Kilbride, for unauthorised purposes.
The precise nature of the misconduct and gross misconduct allegations against Mr Higgins are not known.
Fresh allegations
The latest claims were made to Pirc before Christmas and passed to the SPA for consideration.
It has now decided the claims, relating to allegations of misconduct and gross misconduct, warrant further assessment by Pirc to determine if they should also be the subject of a formal investigation.
A Pirc spokesman said: "Both complaints were made anonymously to the commissioner, who referred them on 22 December to the Scottish Police Authority, as the authority responsible for carrying out initial assessments.
"The commissioner is now assessing the fresh allegations to determine whether the conduct, if proved, would amount to misconduct, gross misconduct or neither and to establish whether they too should be investigated."
On Tuesday the Pirc confirmed a sixth complaint has been made about the conduct of Police Scotland Chief Constable Phil Gormley.
Mr Gormley, who has been on special leave since September last year, denies any wrongdoing.