Glasgow city centre is one of UK's poorest areas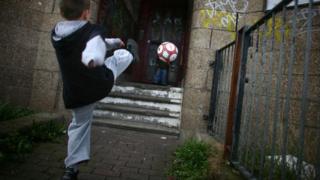 Glasgow is among the UK's poorest constituencies, according to a new report.
The End Child Poverty Coalition, made up of charities, faith groups and trade unions, said that 45% of children in the city centre were living in poverty.
Glasgow Central appears 12th on a list of 20 constituencies, which is otherwise dominated by communities in London, Birmingham and Manchester.
West Aberdeenshire and Kincardine had the fewest children in poverty at 9.2%.
The Coalition calculated the number of children in poverty using a combination of HMRC data and a Labour Force Survey.
A child was classed as poor if their family had less than £248 a week to spend after housing costs.
That amount is less than 60% of median household income in the UK.
Across Scottish constituencies, the organisation found that just under a third of children in North Ayrshire (29%) and Dundee (28%) were living in poverty.
Other areas, such as North Lanarkshire, East Ayrshire, Inverclyde, West Dunbartonshire and Clackmannanshire had a quarter of children in poverty.
Alison Thewlis, the SNP MP for Glasgow Central, told the Good Morning Scotland programme that her constituency's appearance at the top of the Scottish list was a result of UK government policy.
She said: "This is a direct result of Tory austerity and policies like the benefit freeze and the benefit cap.
"In Glasgow there is 636 households that currently have the benefit cap applied and that affects 1,936 children in Glasgow.
"So that will obviously have an impact on incomes in those households and make it far, far more difficult for families to make ends meet."
'Workless households'
Andrew Bowie, the Conservative MP for West Aberdeenshire and Kincardine, denied the domination of English communities on the list was a reflection of Conservative policy.
He said: "What is clear from the figures is that ourselves and the UK government, working with devolved governments - including the Scottish government and charities - must do much more to eradicate this blight of child poverty, which does seem to be a growing crisis in many parts of the country."
In November the Institute for Fiscal Studies suggested changes to the benefits system were contributing to the growth in child poverty numbers.
Mr Bowie said the IFS had got its conclusions wrong. He added: "I would disagree slightly with what the IFS found.
"We believe that the best way to eradicate poverty is to build a growing strong economy, with strong and secure jobs and it should be recognised that the number of children living in workless households has actually fallen by 41,000 in only one year."
John Dickie, director of the Child Poverty Action Group, said: "It is now vital that local and national government in Scotland use every tool at their disposal to make sure these plans make a real difference to families.
"A relentless focus on boosting family incomes and reducing the costs families face is now needed if progress toward eradicating child poverty is to be made."
Satwat Rehman, director of One Parent Families Scotland, added: "It is shameful that, in a country as wealthy as Britain, so many children live in poverty.
"Sadly children in single parent families face a particularly high risk of poverty compared with other households.
"OPFS calls for a UK social security system which is fit for purpose - one that is linked to financial need, removes benefit sanctions and genuinely makes work pay."