The Easterhouse drug addict who became a pastor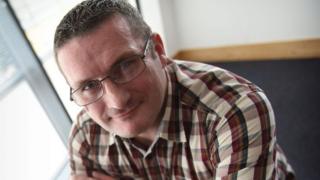 A former drug-addict from Easterhouse has turned his life around to become a blog-writing pastor.
Stuart Patterson updates his blog with stories from troubled years to put people off getting involved with drugs.
At the age of 11 he got a scholarship at fee-paying Hutchesons' Grammar School but high book fees made him feel under pressure.
This caused him to move schools and from there he found himself involved in gang life.
He said: "I have a lot of regrets but I have learned not to be bound by them.
"There is a lot that I have done that I wish I never but I find if I talk about it, something may be sparked off in somebody."
Stuart was always intelligent at school and was offered the chance to sit the Hutchesons exam, which he passed.
Speaking to Stephen Jardine on BBC Radio Scotland, he said: "There was always an understanding that I was intelligent.
"I started at Hutchesons' but felt a bit like a fish out of water. I still got on with it, I still did the work and I enjoyed the atmosphere and ethos."
Going into second year, all students were given a books list and this was simply not affordable.
"I had the book list thinking, 'I need these books' and my mum said that we will get them through the year," he said. "I remember going into English and my teacher saying that we will need Of Mice and Men for the next week and so I'm in a deep state of panic."
Over the next week, he just couldn't pluck up the courage to ask his parents for the money .
He said: "The next Friday, I got to Central (station), the bank of pay phones were still there, and I just pretended to be my Dad and just said that I wouldn't be going in."
Over the next six weeks this became a common occurrence.
'Fighting on pitches'
It then became clear that he would not be staying at the grammar school.
He ended up at Lochend school, an area where there was a different gang to where he lived in Easterhouse.
Summers involved fighting on pitches, smoking cannabis and drinking wine, something Stuart became involved with to "fit in".
By the time he was in fourth year, he changed schools because police had to man the school gates so he would not get killed.
He moved to Westwood school where he was threatened to be stabbed.
He said: "I was 15 years old. No 15-year-old should have to go through that.
"I remember boys going into English with their bottles of EL Dorado and taking me out because guys from another gang had threatened me."
As soon as he could, he left school and got a job as a butcher.
"At this point I started having more money and getting more involved with drugs," Stuart said. "I was taking whatever tablets I could get my hands on."
At this time, he had a girlfriend from a different area and walking her home one night he got attacked, coincidentally by the group of guys he would later buy acid from.
Quickly, things changed when he built up something of a relationship with the drug dealers.
He said: "It was mad how drugs brought gang fighting down, if you wanted to get some you couldn't be fighting the guys selling."
From this relationship his biggest addiction began, he explains: "The first drug I fell in love with was acid, sometimes I would take seven in a day.
"I was selling them, I was the only guy who could go up to the other scheme to get them."
This led to a prison sentence but he was soon out, working on a building site with his new addiction, heroin.
He said: "One day in May 1997 I realised I didn't have my drugs and someone said a guy on site had them.
"The company thought this guy had been stealing so they put one and one together and got three."
A couple of weeks later, his managers drove Stuart to a field and held a gun to his back.
He managed to talk his way out of the situation but after his shift, he left.
'Help other people'
He says that he was honest with his parents about the situation but then simply asked them for a fiver towards drugs.
At this point his mum knew change was needed and put him in contact with Haven and the Teen Challenge Centre.
A pastor phoned and Stuart's first thought was to persuade him to give him a fiver.
The pastor offered to pray for him instead.
Stuart said: " I can't remember what he said but I just went through to my Mum and Dad to say sorry.
"The love of God in my life has made the difference, when you start making decisions based on how you can help other people, it actually makes a difference."
He now runs a ministry in a shopping centre in Easterhouse, helping those with drug issues.
On his blog, he said: "I turned my life around. My beautiful wife Tracy is a nurse and my three girls do not need to grow up in a home full of addiction and all it brings.
"There is hope."