Sister in appeal to catch brother's 'frenzied and brutal' killer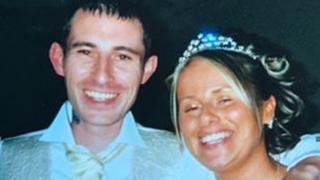 The sister of a man killed in a "frenzied and brutal" street attack has made a fresh appeal in a bid to catch his attacker.
Paul Mathieson, 37, was found with serious facial injuries in Wilson Street, Renfrew, on 14 January. He died in hospital almost a week later.
Mr Mathieson had been in Renfrew's Western Bar and the Kind Man's before stopping for a pizza on the way home.
His sister Amanda Digby said: "The family are devastated."
She added: "Imagine if you were in our position, you would do everything you could to find out why your loved one has been cruelly snatched away in such awful circumstances.
"Please help us find who is responsible."
Ms Digby, 35, said Mr Mathieson was "an average young man, but he was special to us".
She added: "He was a brother, a nephew, an uncle, a grandson and a partner. But more importantly, Paul was a father and his murder has left a 12-year-old boy to grow up without his dad.
"Paul left that night to go out for a few drinks, however, he never returned and we never saw him alive again. His death has left a massive gap in our lives which will never be filled. We are devastated at what has happened.
"No-one thinks it will happen to them but it's happened to us and we are desperately trying to make sense of it.
"I just want to ask people, please if you know anything or you have any information about the crime or the person responsible, please speak to police and pass your information on. Even if you think your information is not relevant, still tell the police."
Police confirmed Mr Mathieson met another man after leaving the takeaway shop. Officers also believe he may have known his attacker.
Mr Mathieson was subjected to a sustained attack and lay on the ground for some time before a passer-by raised the alarm.
He was discovered at about 01:10 on 14 January and died in hospital on 20 January.
Police are keen to hear from a man who was seen speaking to a witness at the top of Houston Street after the attack.
He is white, about 5ft 6in to 5ft 8in tall with a shaved or bald head, stocky build and wearing a dark-coloured jacket or coat.
The man spoke with an English accent and is believed to have been visiting his sister in Renfrew over the New Year period.
Det Ch Insp Martin Fergus said officers were keen to find out if Mr Mathieson had fallen out with people in the past.
He said his inquiry team had been looking at "hours and hours" of CCTV footage and had spoken to more than 200 people.
The detective said: "The key to this investigation is finding the motive. Had he fallen out with anyone that night, that week or that month?
"I ask people to think back and consider, were you in Renfrew that night, did you see Paul in a pub that night? I am urging anyone with information to come forward, your information could prove the vital link in helping us find the person responsible for this young man's murder."