Man stabbed outside snooker club in Glasgow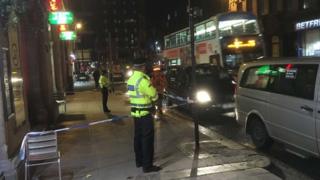 A 29-year-old man is being treated in hospital after being stabbed outside a snooker club in Glasgow city centre.
Police said it happened at about 18:10 on Friday outside Reardon's on Hope Street.
The victim was attacked by another man he had struck up a conversation with as he smoked a cigarette. He was taken to hospital with a serious arm injury.
Officers have been checking CCTV and have appealed for witnesses to contact them.
The suspect, who is described as white, of large build, with short dark hair and wearing a navy blue jumper, black trousers and black trainers, ran off north on Hope Street.
Det Con Vicky Martin said: "The injured man had been with friends in the snooker hall and came out for a cigarette. Whilst outside, he got chatting to another man, who for whatever reason, became aggressive and then stabbed him.
"Thankfully his injuries are not life-threatening, as far as we are aware, however, for a meeting to turn from chatting to being stabbed is quite shocking.
"Just after 6pm on a Friday is a busy time and I have no doubt there would have been plenty people about who will have seen the attack take place."