Woman, 78, fights off bag snatcher with walking stick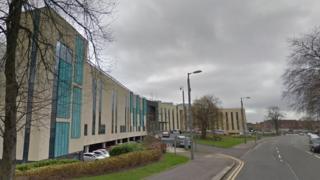 An elderly woman managed to see off a would-be bag snatcher on her way to a hospital appointment in Glasgow.
The woman, 78, got off a number 6 bus near the New Victoria Hospital in the city's Battlefield area at about 13:20 on Monday when a man grabbed her bag.
The pensioner struggled with the man and hit him with her walking stick before he ran off empty-handed towards Langside Road.
She attended her appointment, went home and then called the police.
The suspect was described as being white, in his late 30s, of muscular build. He was wearing a black jacket, a woollen hat and black shoes.
Det Con Fiona MacKenzie said: "The lady had been on her way to an appointment at the hospital when the man struck. Thankfully she was not injured, indeed she made her appointment, went home and then called police.
"She had been on a number 6 bus and got off just outside the hospital. We believe the man had also been on the bus and followed her off.
"We are keen to speak to a number of people, both men and women, who were at the pick-up and drop-off area to the front of the hospital at the bus stop at the time.
"They came to the woman's aid after the man had run off."