Phil Gormley: How a glittering police career turned into a soap opera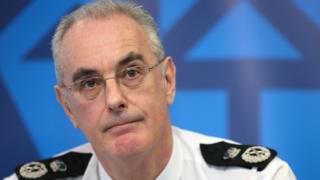 When Phil Gormley was sworn in as Police Scotland's second chief constable, he acknowledged it was "one of the most demanding jobs in British policing".
But he could not have predicted the turmoil which led him to quit after just two years.
The former deputy director of the National Crime Agency (NCA) offered a fresh start for the force after the tenure of Sir Stephen House ended amid a series of controversies.
And few would have forecast Mr Gormley's reign would overshadow the troubles that plagued his predecessor.
A spate of gross misconduct allegations, which included bullying, triggered seven months of negative headlines and led to the embattled chief constable's resignation.
The cracks began to appear last July when it emerged he was being investigated for misconduct.
Two months later Mr Gormley went on special leave after a second complaint was made against him.
Soap opera
Deputy Chief Constable Iain Livingstone, who was seen as the popular choice to succeed Sir Stephen, postponed his retirement to take charge of the force.
But since then the saga has turned into a soap opera with a cast including the former head of the Scottish Police Authority (SPA) Andrew Flanagan, Justice Secretary Michael Matheson and the Police Investigations and Review Commissioner (Pirc) Kate Frame.
Mr Gormley's wife Claire, a former senior police officer, even made a surprise cameo when she wrote a letter to a newspaper in which she defended her husband and condemned the Pirc probes.
The sense of crisis engulfing the force deepened in November as four officers, including Assistant Chief Constable Bernard Higgins, were suspended amid a criminal and misconduct allegations - claims which they have denied.
More allegations against Mr Gormley followed and last month, just over two years on from the date he was officially sworn in, it emerged a seventh complaint had been made.
Five were being investigated by the Pirc and two were being assessed internally.
Special branch
Mr Gormley was seen as a surprise choice to lead the UK's second biggest force, given that he had never worked in Scotland.
But he had built up an impressive CV south of the border since he began his career with Thames Valley Police in 1985.
Mr Gormley worked in uniform and detective roles up to the rank of superintendent.
He later joined the Metropolitan Police and from 2003 to 2007 he was a commander responsible for firearms and aviation security, then for special branch and counter terrorism.
During this time he had responsibility for a controversial team of undercover officers.
In 2006 Gormley was commander of the Metropolitan Police's Special Branch which, until 2008, included the Special Demonstration Squad (SDS).
Some of its officers entered into long-term sexual relationships with women while infiltrating protest groups but Mr Gormley told BBC Scotland he knew "nothing at all" at the time.
He moved to West Midlands Police where, from 2007 to 2010, he was a deputy chief constable responsible for day-to-day performance, deployment and delivery of policing service.
Police medal
In 2010, Mr Gormley was appointed chief constable of Norfolk Constabulary.
Two years later he was awarded the Queen's Police Medal and in 2013 he was part of the launch team of the newly created NCA, which replaced the Serious Organised Crime Agency (SOCA).
In March 2015 the NCA confirmed Mr Gormley, who was a deputy director general, would retire in the autumn.
But while most officers call it a day once they complete 30 years' service, Mr Gormley opted for one final challenge.
In December he was confirmed as Sir Stephen House's successor.
Announcing the appointment, the then SPA chairman Andrew Flanagan said: "From a strong field, I am confident we have found the best candidate to build on the progress that policing in Scotland has made, and to address the issues and challenges that the service faces."
The following month Mr Gormley held a meet-and-greet with journalists at Tulliallan.
Dressing down
Hours earlier a newspaper published a story about the chief cutting his finger after catching it on the zip of his trousers.
After the briefing Mr Gormley, who at 6ft 5in is a imposing figure, took the journalist aside and expressed his displeasure at the front page splash.
At the time the press pack joked that he was the first person to get a dressing down from the new chief.
In the months that followed Mr Gormley juggled the many challenges of his £214,000-a-year role, from budget pressures to counter-terrorism measures.
But last summer his reign began to unravel amid a series of allegations by colleagues, including Assistant Chief Constable Malcolm Graham and Supt Graham McInarlin.
Although Mr Gormley, who lives in Norfolk, denied any wrongdoing, the volume of complaints against him always made it unlikely that he would return to his role.
His resignation now allows Police Scotland to plan for the future as it approaches the fifth anniversary of its launch.