Queen lends Leonardo da Vinci works to Glasgow museum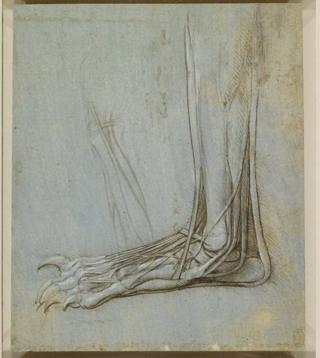 A Glasgow museum has landed a major Leonardo da Vinci art display to mark the 500th anniversary of his death.
The Queen has lent 12 da Vinci drawings to Kelvingrove Museum as part of a celebration of the work of one of the world's greatest artists.
A selection from the Royal Collection will go to 12 venues across the UK before they come together for a larger exhibition in 2019.
Kelvingrove is the only Scottish museum to host the event.
Highlights of the exhibition in Glasgow include "A star-of-Bethlehem and other plants" c.1506-12 and "The anatomy of a bear's foot", c.1488-90.
The exhibition, Leonardo da Vinci: A Life in Drawing, will be displayed simultaneously in the 12 locations from February until May with different works on view in each.
A total of 144 drawings will go on show.
'Greatest of all time'
After the exhibition, the drawings will be brought together to form part of an exhibition of over 200 sheets at The Queen's Gallery in Buckingham Palace in May next year.
It will be the largest exhibition of da Vinci's work in over 65 years.
A selection of 80 drawings will then travel to The Queen's Gallery at the Palace of Holyroodhouse in November 2019 - the largest group of Leonardo's works ever shown in Scotland.
Chairman of Glasgow Life, Councillor David McDonald, said: "We are absolutely delighted drawings by Leonardo da Vinci will go on display at Kelvingrove Museum, as part of Royal Collection Trust's nationwide event.
"As the only Scottish venue to host Leonardo drawings as part of the simultaneous display across the country, we are eagerly anticipating the arrival of works by an artist widely considered to be one of the greatest of all time."
The works have been selected to show the extraordinary scope of the artist's interests, from anatomy, maps, weather, mechanical design, landscape, natural history and portraits, as well as his use of different media, including ink, chalk and watercolour.
Martin Clayton, head of prints and drawings at the Royal Collection Trust, said, "The drawings of Leonardo da Vinci are a national treasure, both incredibly beautiful and the main source of our knowledge of the artist.
"We hope that as many people as possible across the UK will take this unique opportunity to see these extraordinary works, which allow us to enter one of the greatest minds in history, and to understand the man and his achievements."