Home abortions 'could see more objections from GPs and pharmacists'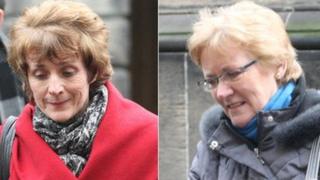 A midwife who campaigned for staff to opt out of abortion work fears plans for "at home" abortions could see a rise in objections from health staff.
Mary Doogan lost her fight to not be responsible for other colleagues involved in terminations.
She thinks the plans to allow women to take the second abortion pill at home will implicate GPs and pharmacists.
She supports a law change to extend conscientious objection to those not directly involved with the process.
In 2014, the UK's highest court told Catholic midwives Mrs Doogan and Connie Wood they do not have the right to avoid supervising other nurses involved in abortion procedures.
The Supreme Court in London ruled they should have to support staff who are caring for patients having terminations.
'Not my problem'
NHS Greater Glasgow and Clyde's appeal said the right to abstain should only extend to "hands-on" treatment ending a pregnancy.
A Private Member's Bill is now being put to the House of Lords which seeks to strengthen conscience rights.
It would only apply to England and Wales but it is being closely watched in Scotland and supported by the Catholic Church.
Mrs Doogan's view was that, as a manager, she shouldn't have to supervise or have any involvement in terminations.
It was the health board's view that they could not run a hospital in that way.
Mrs Doogan told the Kaye Adams Programme: "It's not my responsibility to work that out.
"I was told I was morally responsible for this abortion being done.
"I had to make sure staff went in, I could be held responsible for a problem coming up.
"If I have a conscientious objection, it's not my problem."
She said she wants to see "common sense" applied.
"In 1967, the act was passed. It was recognised at the time there needed to be a conscience clause for those who would have a moral issue.
"But this gradual change of watering down happened. I would like to go back to the spirit of the law in 1967.
"The conscience clause was there so that no one would have any obligation to participate.
Mrs Doogan is now supporting a strengthening of the law.
It is her fear that other health care staff will become involved in the moral responsibility of providing terminations.
Last October, the Scottish government announced women in Scotland would be first in the UK to be allowed to take the abortion pill at home.
The second dose of the medication for a medical termination will be allowed to be taken at home, and not in a medical location.
Mary Neal, a senior law lecturer from Strathclyde University, said: "GPs and pharmacists could find themselves involved in a termination itself.
"Allowing women to take the second medication for a termination is a step towards delivering both doses at home.
"GPs could find themselves prescribing, and community pharmacists could find themselves dispensing it.
"It is not clear if the clause would protect them."
A Scottish government spokesperson said: "We believe all women should have access to clinically safe and legal abortion within the bounds of the law. Abortion care should be part of standard healthcare provisions and should be free from stigma. We have no plans to change the law on abortion."
The government also stressed there is "a clear provision" within the existing abortion legislation which protects the right to conscientious objection.
A statement from NHS Greater Glasgow and Clyde said: "In 2014 NHSGGC was successful in its appeal at the Supreme Court and this legal process is now concluded.
"NHSGGC adheres to the Nursing and Midwifery Council's code on professional standards of practice and behaviour.
"This allows nurses and midwives to refuse to participate in terminations of pregnancy, except where it's necessary to save the life of a pregnant woman or prevent grave injury to her physical or mental health."